CDH maintains a prominent position in Africa, following the 2022 Chambers Global rankings
CDH maintains a prominent position in Africa, following the 2022 Chambers Global rankings
Off the back of another year of rapid change for legal services, and professionals, corporate and commercial law firm, Cliffe Dekker Hofmeyr (CDH) is humbled to feature strongly in the recently released Chambers Global (Chambers) 2022 rankings. Despite the ongoing unpredictability of the pandemic, the legal market has proven itself resilient.
21 Feb 2022
2 min read
CDH Alert
Article
At a glance
Cliffe Dekker Hofmeyr (CDH) has achieved strong rankings in the recently released Chambers Global 2022 rankings, despite the challenges brought by the pandemic.
The rankings recognize CDH's outstanding legal experts and their commitment to excellence, as well as the firm's ability to efficiently serve the evolving needs of clients.
Chambers Global Guide is highly regarded as a reliable source of information for businesses seeking world-class legal advisory services, and CDH's top-tier rankings demonstrate their strong client relationships across Africa.
"We are humbled by our success in the industry and commend our CDH legal experts for their outstanding and ongoing commitment to excellence", said CDH Chief Executive Officer, Brent Williams, "As the pandemic recedes, CDH will continuously seek out methods to efficiently serve the evolving needs of our clients", he continued.
Each year, Chambers' esteemed Research Analysts identifies and ranks the most outstanding law firms and lawyers in over 200 jurisdictions globally. This year, South Africa now features in the International and Cross-Border rankings along with 38 other jurisdictions The qualities on which these rankings are assessed include technical legal ability, professional conduct, client service, commercial astuteness, diligence, and commitment.
Due to its extensive research and the directory's robust interview process, the Chambers Global Guide is widely perceived as one of the most conclusive sources of information for businesses and clients looking for world-class legal advisory services.
Clients interviewed by Chambers described the service provided by CDH as professional, excellent, and responsive to the limited-time instructions and requirements of a case.
"CDH's top-tier rankings are a testament to the firm's strong and longstanding client relationships across Africa", said CDH Kenya Managing Partner, Sammy Ndolo. "We are honoured to be recognised among our peers," he continued.
"As we know, Chambers' research does rely on client feedback, and we remain gratefully humbled by our clients, who believe in the work we do for them," concluded Williams
CDH's top-tier rankings are detailed in full here: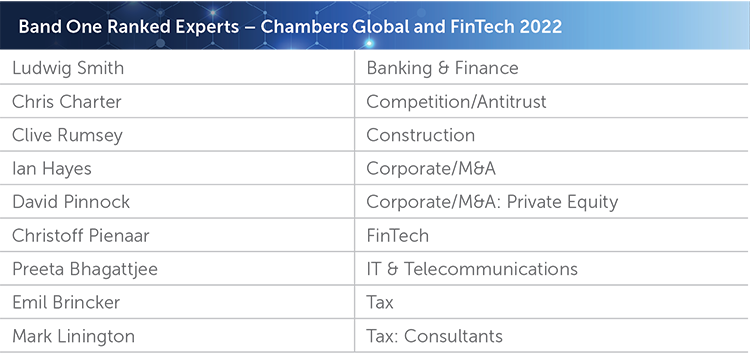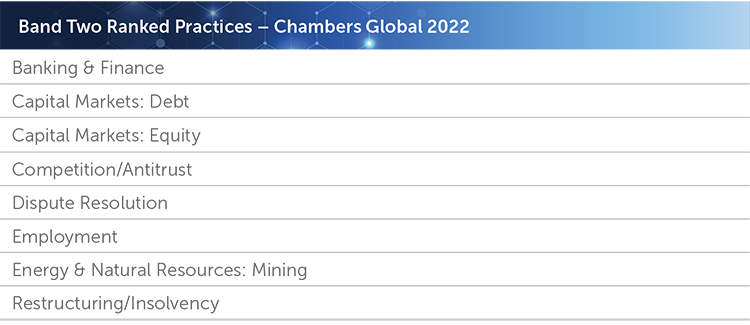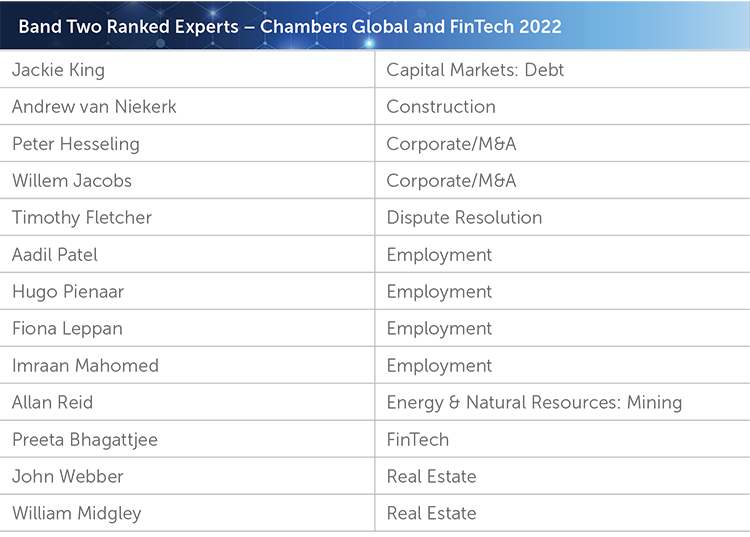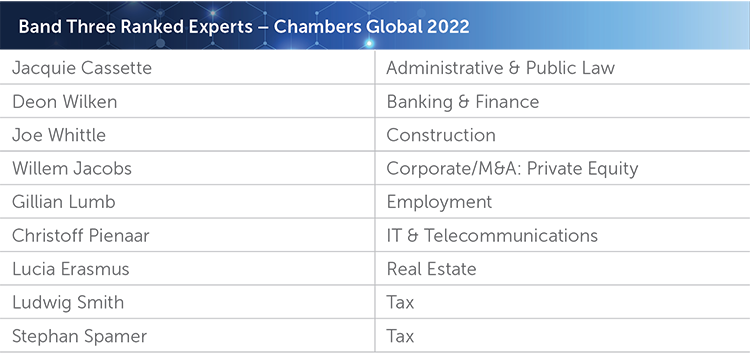 The information and material published on this website is provided for general purposes only and does not constitute legal advice. We make every effort to ensure that the content is updated regularly and to offer the most current and accurate information. Please consult one of our lawyers on any specific legal problem or matter. We accept no responsibility for any loss or damage, whether direct or consequential, which may arise from reliance on the information contained in these pages. Please refer to our full terms and conditions. Copyright © 2023 Cliffe Dekker Hofmeyr. All rights reserved. For permission to reproduce an article or publication, please contact us cliffedekkerhofmeyr@cdhlegal.com.
Subscribe
We support our clients' strategic and operational needs by offering innovative, integrated and high quality thought leadership. To stay up to date on the latest legal developments that may potentially impact your business, subscribe to our alerts, seminar and webinar invitations.
Subscribe