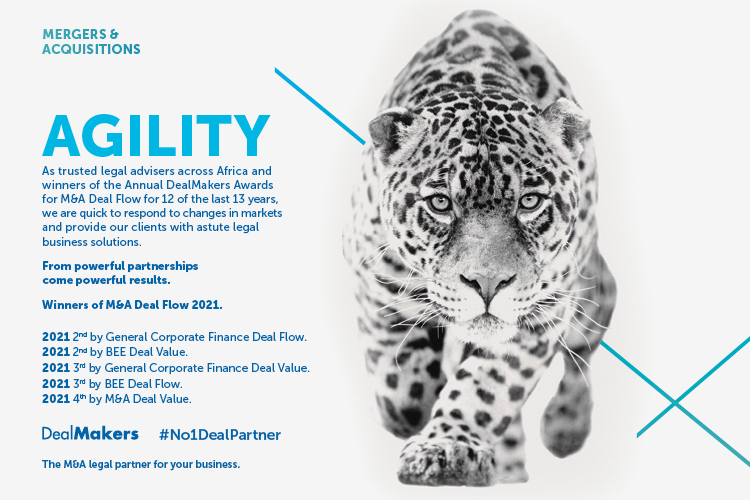 During 2021, the firm's 59 M&A deals with a combined value of R117,634bn saw CDH increase its M&A deal flow, taking 19,80% market share, and proving that, while times are in flux, deal opportunities can still be found – whether they be commercial, financial, or strategic.
CDH's top honours achieved at the Ansarada DealMakers Annual Awards, included:
2021 1st by M&A Deal Flow.
2021 2nd by General Corporate Finance Deal Flow.
2021 2nd by BEE Deal Value.
2021 3rd by General Corporate Finance Deal Value.
2021 3rd by BEE Deal Flow.
2021 4th by M&A Deal Value.
CDH CEO Brent Williams says, "Thank you to our clients for their trust in us. Despite the strong headwinds of the past several years, CDH has consistently served our clients as the trusted M&A adviser that is quick to respond to challenges in the market and provide our clients with astute and agile legal solutions. With Africa looking promising for M&A deals in the coming years, we have no doubt that our office in Nairobi will be coming to the fore in this competitive market."
Director and National Head of CDH's Corporate & Commercial practice, Willem Jacobs, says, "the range of accolades secured by the firm demonstrates the diversity and resilience of CDH's capabilities." "Having to navigate the ever-changing, ever-evolving, and unpredictable environment that has been the last two years, it is only by building powerful partnerships with our clients that we were able to showcase powerful results. We find strength in our capacity to deliver excellence, with a deeply entrenched history within the M&A sector," he continued.
Cape Town Managing Partner and Corporate & Commercial Director, Gasant Orrie, adds that "whilst the industry has faced a challenging few years, it has proven resilient. We are grateful to our clients for trusting us. It is through their belief that our talent can shape the industry," he noted.
"We are excited at the prospect of being able to bring to bear CDH's client-centric approach to transactional work in the East Africa region," says Sammy Ndolo, Kenya Managing Partner. "As one of the partners in our esteemed Corporate & Commercial practice, I can confirm that we are leaders in M&A across Africa," adding "no matter your vantage point."
Regarding the future of the industry and the year ahead, Brent is confident that deal flow is only set to rise. "Our recognition for M&A Deal Flow for 12 out of the last 13 years - an unsurpassed record within the local market - is testament to our expertise and the commitment to continuously grow in South Africa and across the continent. CDH is ready to tackle 2022 with renewed vigour as we look forward to operating environments opening up and economies begin to recover", he concluded.