IFLR 1000 2020 Results
Congratulations to all our lawyers and practices recognised in the IFLR1000 2020 rankings.
8 Nov 2019
3 min read
Article
The IFLR1000 ranks the world's leading financial and corporate law firms and lawyers. CDH's practices and experts featured prominently in the guide's 2020 results.
Client feedback forms an important part of IFLR1000's research and we want to thank all our clients for their continued support.
The full list of the firm's rankings, including quotations from editorial, appear below.


PRACTICE RANKINGS

Editorial
"The firm gives excellent advice and insight into commercial matters and has deep knowledge of the law. It also has the ability to deal with shareholders from other geographies." M&A
"The firm has incredible attention to detail and is very comprehensive in all aspects of its work." M&A
"The firm is competent. They are leaders in their field of expertise and deliver on time." M&A

Editorial
"The firm is knowledgeable and customer centred." Capital markets: Debt
"The firm has a highly experienced team in debt funding and they are excellent drafters of agreements." Capital markets: Structured finance and securitisation


Editorial
"CDH is a professional and highly skilled organization. I have received outstanding service and advice from them." Project development
"The firm is extremely professional, thorough and provides a timeous delivery." Project development

Editorial
"The firm has excellent turnaround times and execution speed. It has a very professional conduct (verbally, written and in meetings) with both ourselves and the other parties in the matter. It is always available." Restructuring and insolvency
"They were very good, professional and very knowledgeable on the subjects. The firm is very efficient and effective." Restructuring and insolvency
INDIVIDUAL RANKINGS
Congratulations to our experts ranked in the guide in their respective fields.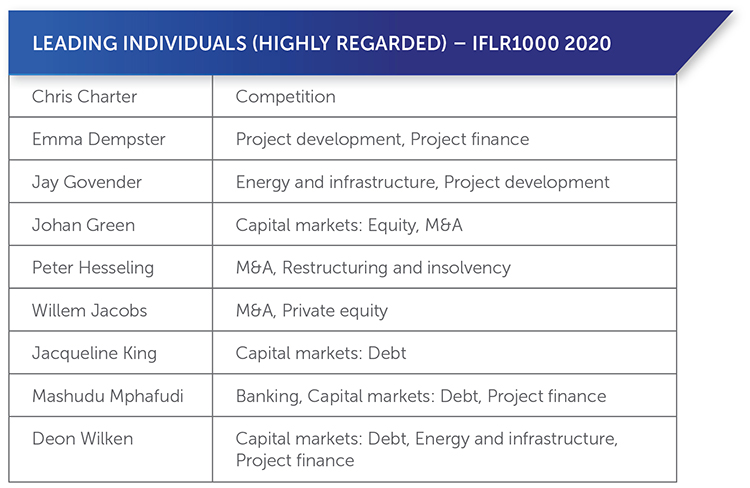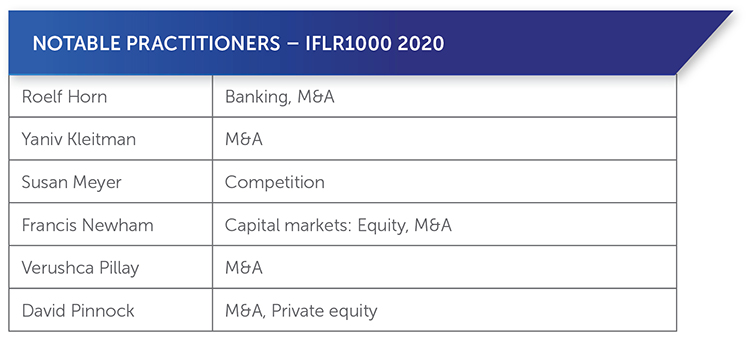 Many of our lawyers, including those ranked in the tables above, also received recognition in IFLR1000's editorial.
Andre de Lange
"He provided a very high level of output. He has excellent turnaround times and is excellent at proposing solutions."
"He is experienced, knowledgeable, calm and precise."
David Thompson
"David is an excellent lawyer who combines a good commercial skill and ability with a deep knowledge of the law. He has the ability to get to the heart of a problem."
Deon Wilken
"He is knowledgeable and practical. He does not sweat the small stuff."
Jackie King
"She has a high quality of work and always meets clients' needs. No complaints."
Jay Govender
"Her strength is her knowledge and experience in many sectors in South Africa. No apparent weaknesses."
"She is an excellent and professional lawyer."
Johan Latsky
"He is detailed orientated, knows the business and is innovative in applying his mind."
Julian Jones
"I was absolutely happy with the work. He went out of his way to resolve some very complicated issues. He is professional and very knowledgeable. Excellent."
Ludwig Smith
"He is highly experienced and has an excellent understanding of the industry and laws. He is also an excellent drafter of agreements."
Peter Hesseling and Tessa Brewis
"Both Peter and Tessa deliver high quality work in line with our requirements. The understanding of our requirements within the context of our industry is invaluable in moving transactions forward."
"Strengths: they were responsive and accessible with knowledgeable and practical advice and assistance."
Richard Marcus
"He is a brilliant man, a pleasure to work with, of undoubted integrity."
Roux van der Merwe
"He has excellent knowledge, experience and had an excellent application to our situation."
Tessa Brewis
"She has an incredible attention to detail and fantastic communication skills."
Tobie Jordaan
"I have known Tobie for many years and his service has always been excellent."
Werner de Waal
"He has an exceptional orchestration of multiple workflows, an in depth knowledge and is a good leader. He is always willing to go the extra mile."
Thank you once again to all our clients for choosing our firm and our experts as your strategic legal advisers.
The information and material published on this website is provided for general purposes only and does not constitute legal advice. We make every effort to ensure that the content is updated regularly and to offer the most current and accurate information. Please consult one of our lawyers on any specific legal problem or matter. We accept no responsibility for any loss or damage, whether direct or consequential, which may arise from reliance on the information contained in these pages. Please refer to our full terms and conditions. Copyright © 2023 Cliffe Dekker Hofmeyr. All rights reserved. For permission to reproduce an article or publication, please contact us cliffedekkerhofmeyr@cdhlegal.com.
Subscribe
We support our clients' strategic and operational needs by offering innovative, integrated and high quality thought leadership. To stay up to date on the latest legal developments that may potentially impact your business, subscribe to our alerts, seminar and webinar invitations.
Subscribe