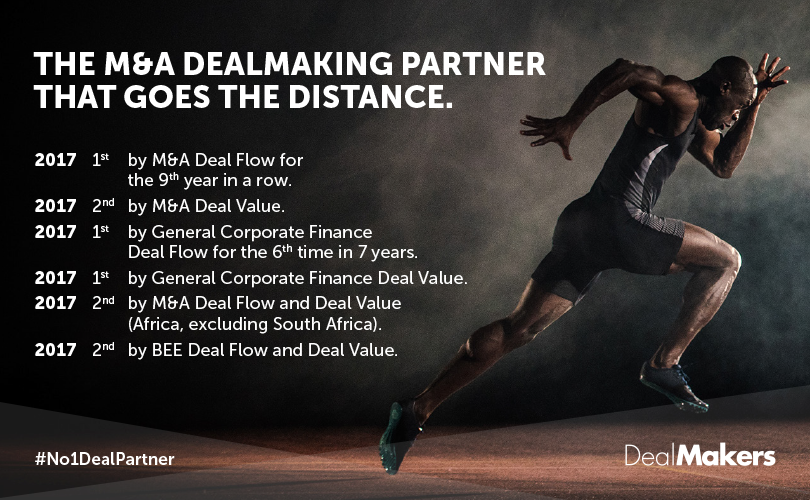 Advising on 82 M&A deals in 2017 (an increase on the previous year's 77), means that CDH accounted for 25,15% of market share over the period.
The firm has also demonstrated continued success in General Corporate Finance, winning both the Deal Flow and Deal Value categories. In fact, CDH has now won the General Corporate Finance Deal Flow category for six out of the last seven years.
CDH was awarded first place in for Deal Flow for working on 26 transactions, totalling R279,460 billion in the General Corporate Finance category, for 2017. In addition, CDH advised on the DealMakers Deal of the Year, namely the R34.6bn cross-border acquisition by Vodacom of a 34.94% indirect interest in Safaricom in Kenya.
Brent Williams, CEO at CDH, points to this unrivalled success as justification for their market-leading position in the industry. "Consistently being ranked first for M&A and Corporate Finance Deal Flow at the DealMakers Awards, is not only unparalleled but is testament to being the business law firm of choice for our clients," says Williams. 
CDH also demonstrated its successful transformation efforts by achieving second place in the DealMakers BEE category for both M&A Deal Flow and M&A Deal Value. The firm advised a total of five BEE deals totalling 19.23% of market share. 
Despite a challenging regional environment for M&A in Africa, CDH drew on its extensive African experience to achieve second place in the DealMakers Africa category for both M&A Deal Value and M&A Deal Flow. 
Looking to the year ahead, Director and National Head of CDH's Corporate & Commercial practice, Willem Jacobs, believes that the deep, sectoral expertise of CDH's 109-strong team of lawyers within the M&A practice area will continue to grow the firm's presence in South Africa and the African region as a whole. 
Williams adds, "Our M&A deal team is supported by lawyers from other practice areas, with experience in competition, tax, finance & banking, pension and real estate. This diverse set of capabilities affords us an in-depth understanding of our clients' businesses across the continent so that we can find and forge efficiencies when they matter the most in a tough business environment."
DealMakers track all M&A deals and corporate finance transactions entered into by South African listed companies. Their Annual Awards Dinner is now in its 17th year and honours advisory excellence in the M&A industry. 
"CDH will continue to support not only its clients, but the industries in which it operates by facilitating transformative and sustainable deals," concludes Williams.