The Regulations propose lifting some of the existing exemptions on excise stamp fees, widening the scope of use of the excise stamp fees collected by the Commissioner General, and revising the existing stamp fees for specified excisable goods. Members of the public and stakeholders are invited to submit their comments for consideration by 3 February 2023. The KRA anticipates that the Regulations will take effect from 1 March 2023.
Extension of the scope of goods subject to excise stamp fees
Regulation 3 has been amended to require every package of excisable goods manufactured or imported into Kenya and listed in the second schedule to be affixed with an excise stamp. The newly listed goods in the schedule include electronic cigarettes and other nicotine delivery devices, liquid nicotine for electronic cigarettes, and products containing nicotine or nicotine substitutes intended for inhalation without combustion or oral application but excluding approved medicinal products. The excise stamp fee for such products is KES 5 per stamp.
Additionally, the Regulations will now require all bottled or packaged water to be affixed with an excise stamp of KES 0.5 per stamp. Previously, the excise stamp fee applied only to mineral water and aerated water under tariff 2201.10.00, although the KRA collected excise stamp fees from bottled and packaged water regardless.
Increase in excise stamp fees
In the table below we have outlined a summary of the category of excisable goods, the excise stamp fee previously levied and the proposed change.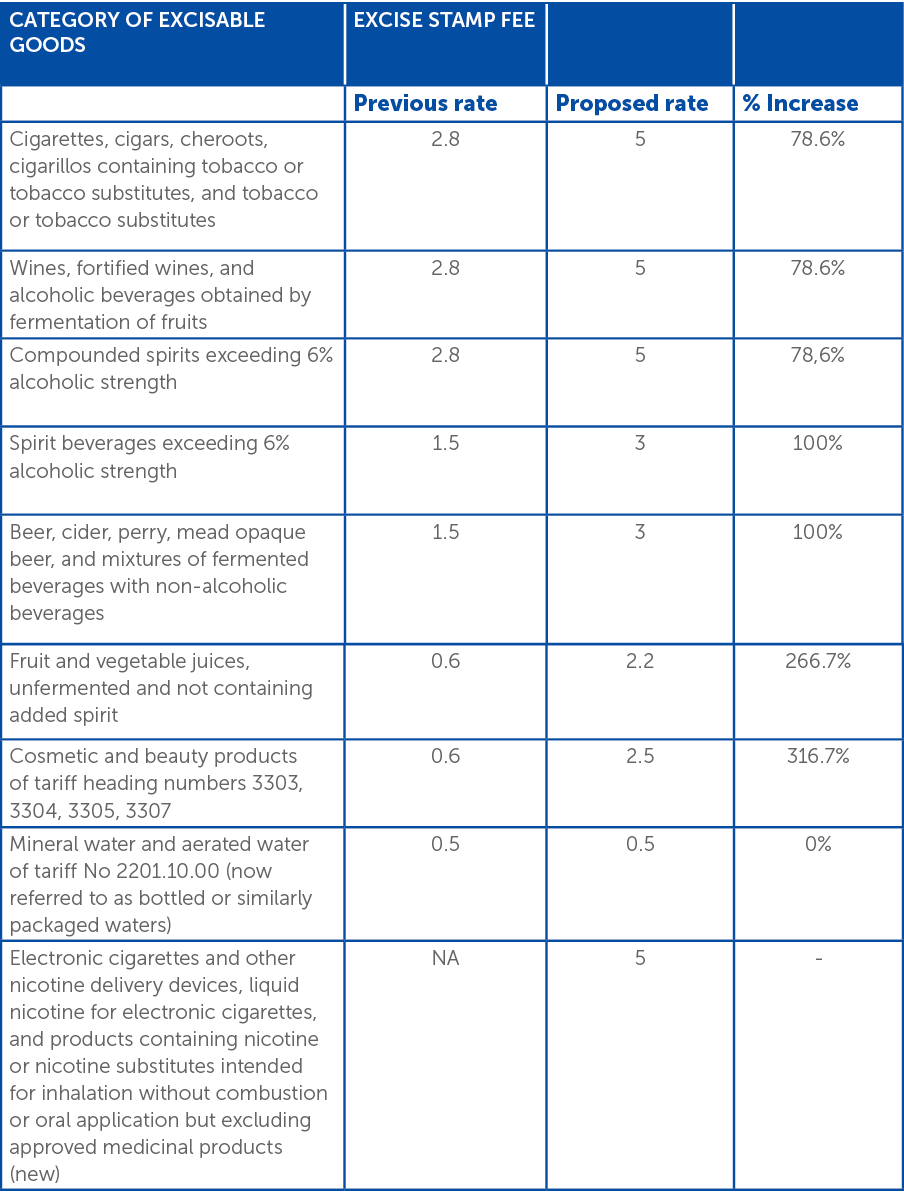 Management of excise stamp revenue
The Regulations have proposed amendments to allow the KRA to utilise the revenue collected from the excise stamps to finance compliance management activities of the excise sector. Currently, the KRA can only use the revenue to maintain the Excisable Goods Management System.
Conclusion
Importers and producers of the affected excisable goods are likely to pass on the increased fees for excise stamps to consumers. The KRA should therefore be keen to consider comments from stakeholders and the public.
The next step after the KRA has considered stakeholders' comments is for National Treasury to present them to a parliamentary committee to review and scrutinize them within 28 sitting days. The Regulations will then be tabled in Parliament where a resolution will be passed on whether to approve or reject the amendments.
In the spirit of public participation, members of the public are encouraged to submit their comments and inputs for consideration before 3 February 2023. The Excise Duty (Excisable Goods Management System (Amendment) Regulations 2023 are set to commence on 1 March 2023. Comments can be made directly to the KRA through the email provided in the notice available at this here. Alternatively, send your comments to CDH using alex.kanyi@cdhlegal.com by 27 January 2023 and the firm will consolidate and share the comments with the KRA.
You can find the proposed Excise Duty (Excisable Goods Management System) (Amendment) Regulations, 2023 here.