With Africa being the continent with by far the lowest CO2 and GHG emissions, accounting for between 2% to 3% of global GHG emissions (with South Africa accounting for about 33% of all GHG emissions in Sub-Saharan Africa), clean hydrogen presents a chance for Africa to be catapulted into prosperity through investment in the entire value chain of clean hydrogen.
This includes the production of green hydrogen from renewal sources; the production of PtX products from green hydrogen (ammonia, methanol etc); the production of hydrogen from repurposed existing fossil-fuel intense infrastructure; the development of storage and handling facilities for hydrogen; and the transportation infrastructure (pipelines, vessels) for conveying hydrogen products, including to end-use applications in existing and future industries (electric fuel cell vehicles, refuelling stations, and so on).
The development of the hydrogen economy in Africa will support effective, broad global decarbonisation, allow countries to meet their climate goals, and create sustainable economic growth for African countries and the rest of the world. There are enormous opportunities for Africa to be a key player in the clean hydrogen value chain, with several regions having the potential to develop into major global export hubs for hydrogen and other areas with the potential to provide domestic demand for end-use applications of hydrogen. Northern and Southern Africa have very favourable solar conditions for the production of green hydrogen, and countries in these regions (such as Namibia and South Africa in the south) are ideally situated to become export hubs for green hydrogen and PtX products.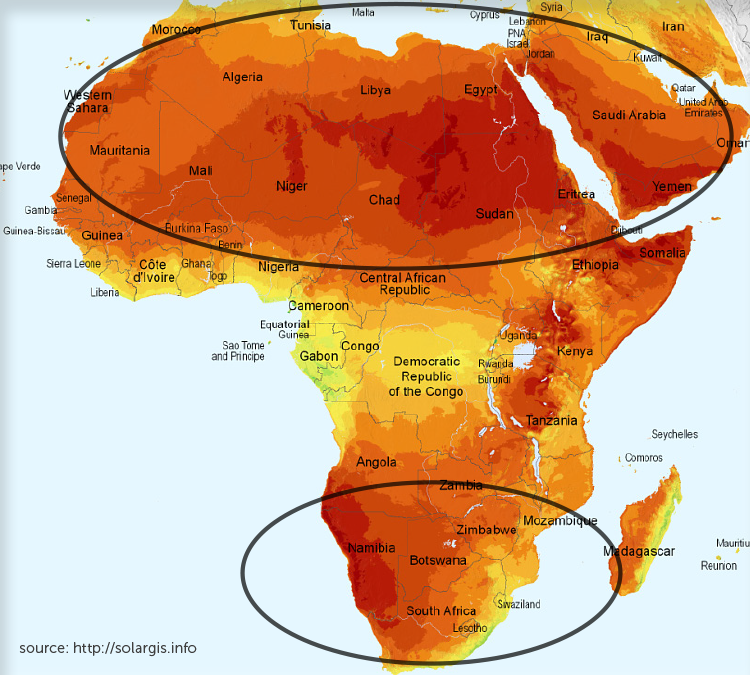 However, for that to happen African governments must make a concerted effort to ensure they have suitable policy and regulatory frameworks in place that make investment of significant capital in projects along the hydrogen value chain enticing. Clean hydrogen is considered to be the only scalable and cost-efficient energy vector to decarbonise hard to abate sectors (heavy industries, transportation and mobility) that require clean molecules as fuel or feedstock to substitute petroleum products and coal.