Many businesses have sought to mitigate the risk of blackouts through short-term solutions such as utilising diesel generators. The realisation that Eskom is nowhere near resolving its shortage of generation capacity, coupled with the rise in diesel costs, has led to many commercial and industrial businesses looking towards renewable energy developers for cost-effective and long-term solutions.
During his address on the national energy crisis on 25 July 2022, President Cyril Ramaphosa reported that the raising of the licensing threshold from 1 MW to 100 MW for new embedded generation projects which took place at the end of 2021 "unlocked a pipeline of more than 80 confirmed private sector projects with a combined capacity of over 6,000 MW". In an effort to further increase private investment into electricity generation, the Presidency announced its intention to completely remove the licensing threshold for embedded generation, and draft regulations to this effect have been published. These steps are encouraging for consumers needing a secure supply of energy and serve as evidence of Government's ongoing efforts to remove or speed up the regulatory hoops that need to be jumped through when developing embedded generation projects.
The commercial arrangement between the generator of the power (seller) and the consumer of power (buyer) is typically structured as the purchase of power in terms of a power purchase agreement (PPA). PPAs are complex agreements as parties to them need to negotiate and fairly allocate the risks associated with the project amongst themselves.
We have highlighted just a few of the risks that buyers should be aware of when entering into commercial and industrial PPAs. We have specially looked at the instance where the seller will install a rooftop or ground mounted solar PV system (facility) at the buyer's premises to generate electricity that it will sell to the buyer.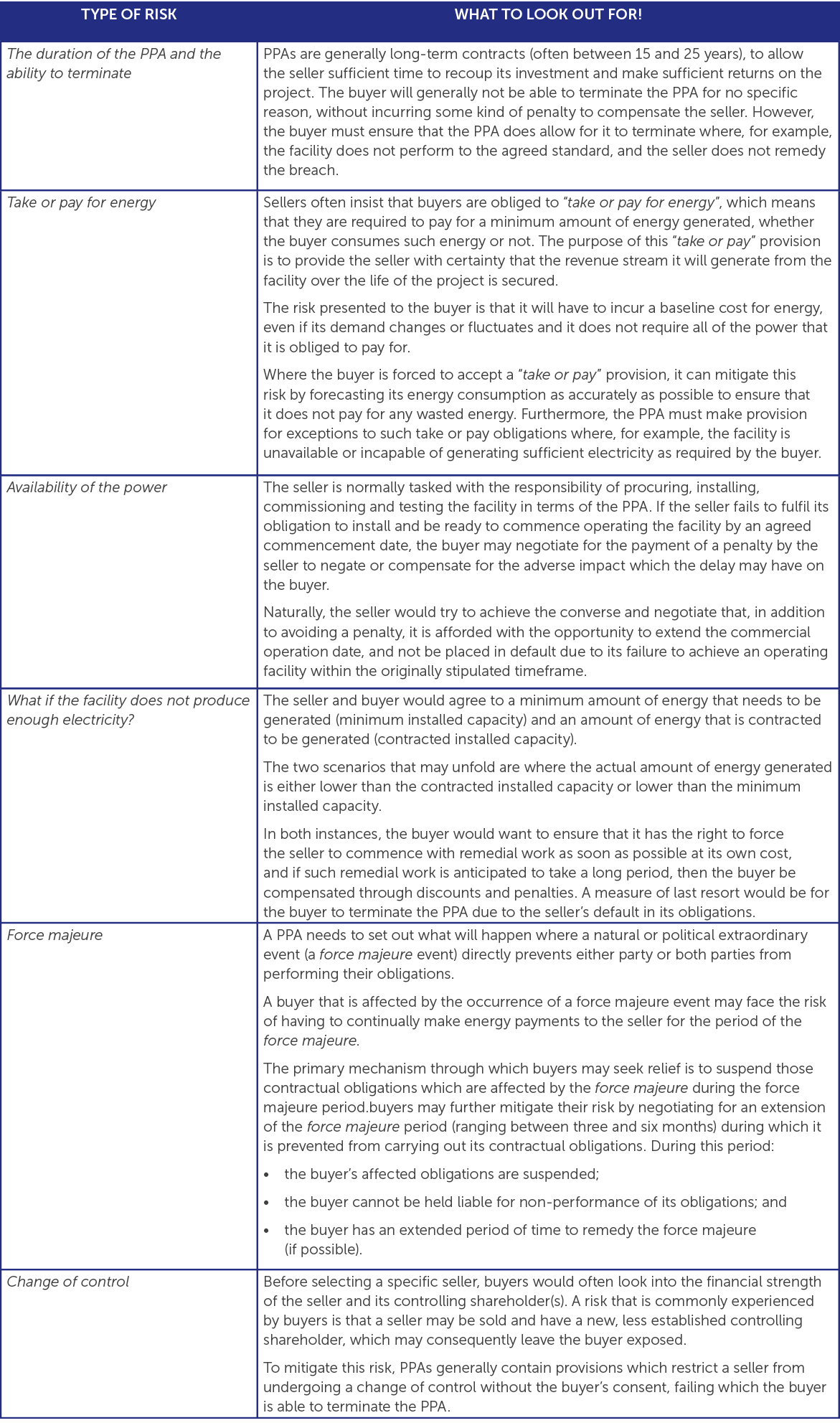 At the outset, it is important to bear in mind that PPAs are subject to negotiation and each party will always try to put forward mechanisms that would advance their interest and mitigate their risks. Parties therefore need to remain conscious that a PPA, at its core, has to be a balanced agreement which is achieved through engaging in careful negotiations and allocating the risk to parties who are able to efficiently manage them in the best possible way.