In Zimbabwe, the financial thresholds and filing fees for mandatory merger notification, as well as the advisory opinion application fees have recently been amended: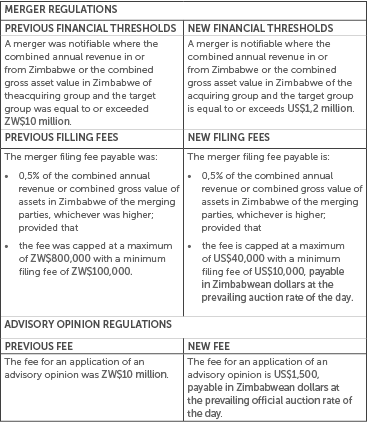 The amendment represents an increase in the thresholds for mandatory merger notification in Zimbabwe. This amendment should curtail the ambit of transactions that will require mandatory merger notification. Although this is an improvement, some may argue that the thresholds remain relatively low.
While there is also an increase in the maximum and minimum merger filing fees in Zimbabwe, the amended amounts are not out of kilter with, for example, the applicable intermediate and large merger filing fees in South Africa.
Considering that the failure to notify/prior implementation of a notifiable merger may (amongst other things) attract a penalty of up to 10% of merger parties' annual turnover in Zimbabwe, these modifications to Zimbabwe's merger control regime are key to bear in mind when assessing the competition law implications of multi-jurisdictional transactions.