Background of the Policy Guidelines and the Equity Requirement
The Kenya Information and Communications Act, 1998 (the KICA) empowers the Cabinet Secretary in charge of ICT (the Cabinet Secretary) to issue ICT policy guidelines to the Communications Authority of Kenya (the CA). The CA is, in turn, required to regard the Policy Guidelines in the performance of its functions.
The Cabinet Secretary previously issued ICT policy guidelines in 2001 and 2006. In 2020, however, the Policy Guidelines were issued to, among others, enhance the minimum Kenyan shareholding requirement for licensees within the ICT sector from 20% to 30%. A three-year compliance grace period, that could be extended upon application by up to one year, was also provided for.
Summary of the changes and clarifications made to the timelines for compliance with the Equity Requirement
A summary of the revised compliance timelines as per the Notice are as follows: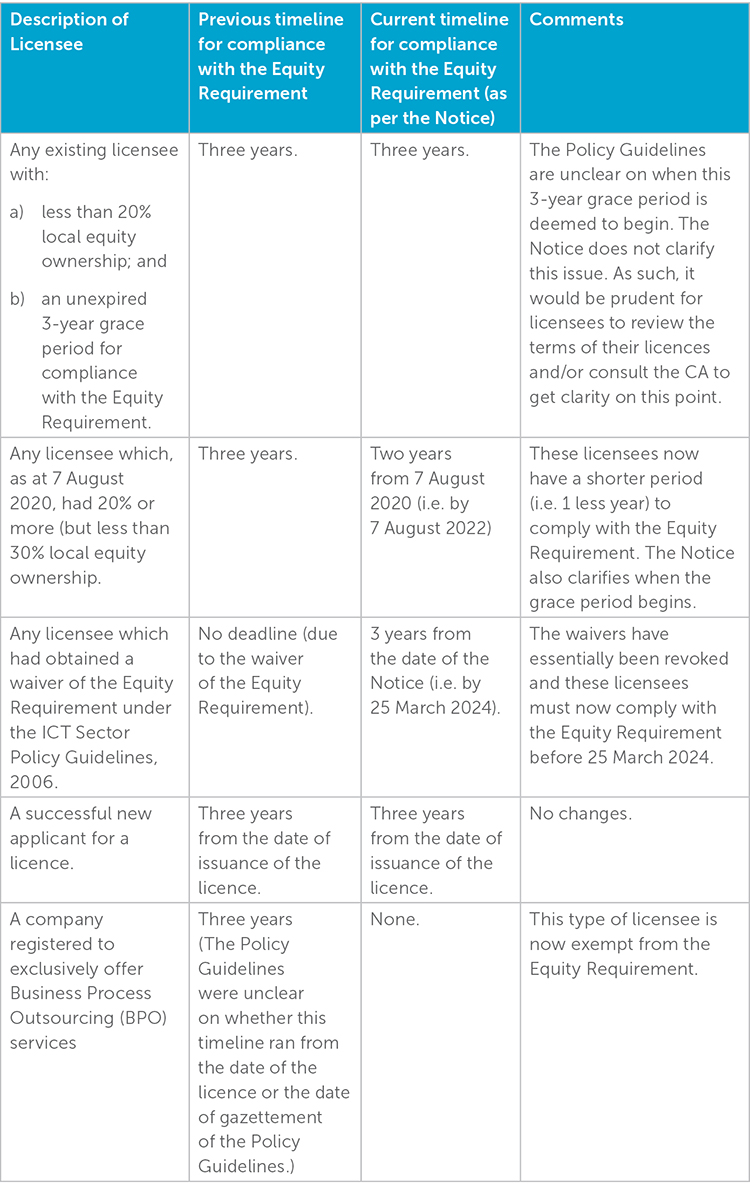 Further Changes
The Notice also removes the one-year cap that had been placed on possible extensions of the compliance timelines. The Cabinet Secretary therefore now has discretion regarding the length of any such extensions of time.
The Notice also sets out an express provision that allows licensees to apply to the Cabinet Secretary for an exemption to the Equity Requirement.
Conclusion
The Equity Requirement aims to facilitate and improve the level of Kenyan ownership and participation in the ICT sector. The gazettement of the Notice is likely to inject fresh momentum into the race for compliance with the Equity Requirement and fuel corporate investment deal activity within the ICT sector over the next few years. Non-compliant ICT sector licensees will however need to overcome various challenges in their bid to attract local investors including the economic downturn triggered by the COVID-19 pandemic and the concomitant profitability challenges that exist in some cases.
The CA is nevertheless likely to keep an eye on compliance levels during its review of the yearly returns which licensees are required to present to it and it will be interesting to see what position the government takes towards requests for extension of time and exemption from non-complaint entities should these arise. It is worth noting that non-compliance could have far reaching consequences including the revocation of licences, therefore, it is important for licensees to take note of the compliance timelines under the Notice and to ensure:
a) timely compliance with the Equity Requirement; or
b) the timely filing of applications:
i) for exemption from compliance; or
ii) for extensions of the timelines for compliance.
The above alert is meant for general information and does not constitute legal advice. In case of any inquiries or if you require any further information or advice on how the Notice could affect your business, please feel free to contact Shem Otanga.