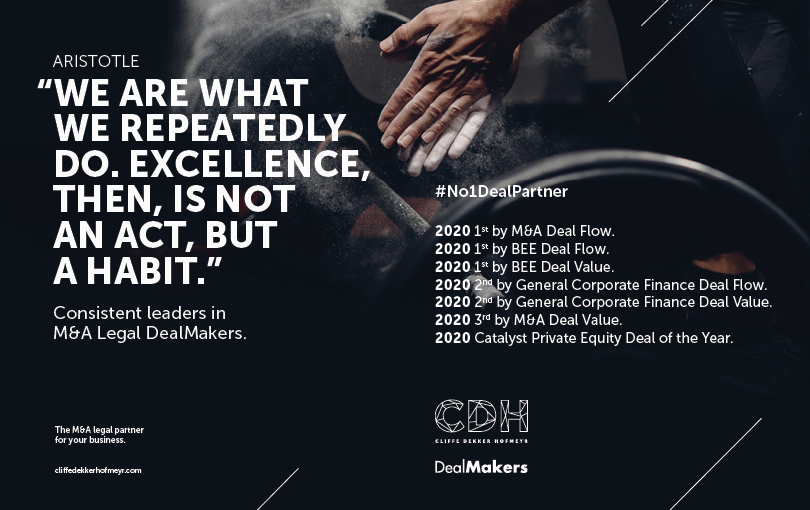 This remarkable level of deal facilitation garnered ample recognition at last week's 20th Annual DealMakers Awards Virtual Gala Dinner, honouring advisory excellence in the industry. DealMakers tracks M&A and corporate finance activity in the South African market. The firm secured three first-place rankings in M&A Deal Flow, BEE Deal Flow, BEE Deal Value, as well as achieving second place in General Corporate Finance Transaction Value and General Corporate Finance Transaction Flow.
In a year that saw listed M&A activity decrease by almost 17%, CDH managed to increase its listed M&A deal flow by more than 22% over the course of the year – winning the M&A Deal Flow award for the 11th time in 12 years. CDH advised on 54 listed M&A deals with a combined value of R26,560bn in 2020, taking 24,55% market share, and proving that, while times are tough, deal opportunities can still be found – whether they be commercial, financial, or strategic.
Brent Williams, CEO at CDH, says these results are testament to the quality of professional services consistently delivered by the firm's practitioners, despite prevailing economic circumstances. To continue being ranked first for M&A Deal Flow at the DealMakers Awards for 11 out of the past 12 years is not only exceptional but also proves that CDH is agile and able to adapt to any environment.
"We offer our clients a balanced combination of excellence in practice and value for money. This allows us to do both large and smaller deals, demonstrating our expertise and experience across various deal profiles," says Williams.
With the spotlight on economic recovery, DealMakers introduced business rescue as the newest awards category. Considering the firm's competency in this field, it was no surprise that CDH was shortlisted for the Business Rescue Transaction of the Year 2020 award. There has been a remarkable increase in business rescue activity over the last few years, which was compounded by the onset of COVID-19 and the subsequent national lockdown.
In addition, the firm was also shortlisted for the Catalyst Private Equity Deal of the Year – an award for which they were nominated in respect of two different deals namely the 'Acquisition of Peregrine by Capitalworks' deal and the 'Metier Capital Growth Fund II/ Retailability acquisition of Edgars' deal.
It was the 'Acquisition of Peregrine by Capitalworks' deal that secured the win. This deal is described as "a R4,2 billion offer to qualifying shareholders, which presented an option to elect to receive a cash consideration of R21 per share and/or a leveraged re-investment option through the subscription of shares in one of Capitalworks' buyout vehicles (InvestCo share consideration offer priced at R17,40 per offer share). The attractive structure of the offer resulted in approval from 99,9% of shareholders with the reinvestment election, which will see benefits from the support of Capitalworks as a key anchor shareholder, oversubscribed."
Director and National Head of CDH's Corporate & Commercial practice, Willem Jacobs, says that the range of accolades secured by the firm demonstrates their diverse set of capabilities. "This allows the firm the flexibility and innovation necessary to adapt and thrive in even the toughest deal-making environment".
"Leveraging the excellent sectoral expertise and long-standing experience of CDH's strong team of lawyers within M&A, we will continue to grow the firm's presence in South Africa and the African region as a whole," adds Jacobs.
Cape Town Managing Partner and Corporate & Commercial Director, Gasant Orrie, adds that the industry is faced with unique challenges due to the ongoing pandemic. "We are grateful to our clients who believe in our experts, our specialised legal advice and the work that we do for them. It is critical that we nurture the partnerships forged during this time as it only serves to bring us closer together."
Orrie concludes by emphasising that CDH will continue to support not only its clients but the industries in which they operate by consistently and expertly facilitating transformative and sustainable deals no matter the challenges.