Each year, Chambers Global identifies and ranks the most renowned law firms and lawyers in over 190 jurisdictions across the globe. This is based on research conducted by full-time editors and researchers employed at their head office in London. The qualities on which these rankings are assessed include; technical legal ability, professional conduct, client service, commercial astuteness, diligence and commitment.
Due to its extensive research and robust interview process, the Chambers Global Guide is widely perceived as the most conclusive source of information for businesses and clients looking for world-class legal advisory sources.
Congratulations to our practices and practitioners who have been ranked in Chambers Global 2020: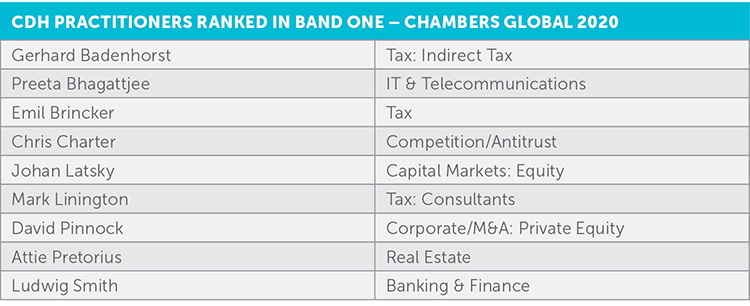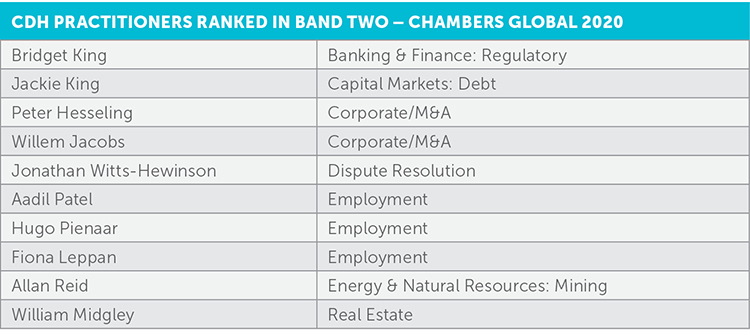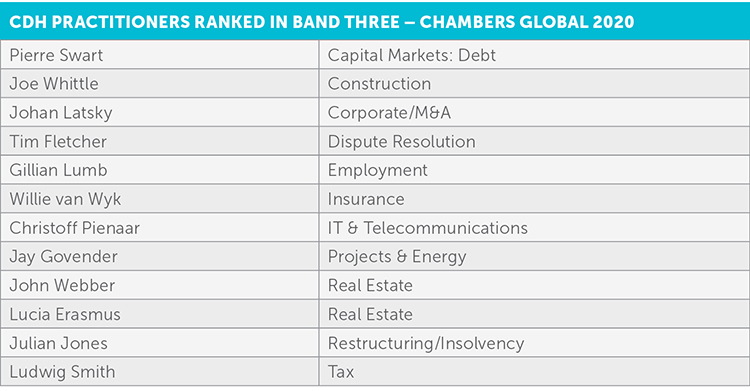 In addition to the firm's rankings in Chambers Global 2020, CDH also achieved top rankings in the recently published Chambers FinTech 2020 guide, which has now expanded its research from 22 jurisdictions to 37 in response to the global growth of this sector. CDH maintained its Band One ranking - one of only two South African law firms to claim a place at the top of the table. Three of CDH's FinTech experts were ranked in the FinTech guide, making CDH the South African law firm with the most specialists featured in the guide. CDH FinTech expert and National Practice Head of Technology, Media & Telecommunications, Christoff Pienaar was ranked in Band One – the only FinTech lawyer in South Africa to achieve this top ranking.

Brent Williams, CEO at CDH believes these results are testament to the high-quality and professional services delivered by CDH's practitioners. "Since Chambers' research relies heavily on client feedback, these results evidence our strong and longstanding strategic partnerships with our clients. Our notable achievements in Chambers Global and Chambers FinTech thus speak to the firm's ethos of placing our clients and their businesses at the centre of everything we do."
"As always, we are grateful for the loyalty of our clients, without whom these results would not be possible" says Williams.