Cliffe Dekker Hofmeyr recommended as a Top-Tier Firm by the Legal 500
Cliffe Dekker Hofmeyr recommended as a Top-Tier Firm by the Legal 500
Cliffe Dekker Hofmeyr (CDH) is proud to once again receive international recognition from The Legal 500 EMEA. For the past three decades, The Legal 500 has used comprehensive independent researchers to assess the capabilities of law firms in over 150 jurisdictions worldwide. An annual independent review of over 300,000 in-house peers, coupled with access to law firm deals and confidential matters, is used to identify and rank the capabilities of professional legal services around the globe.
12 Apr 2019
5 min read
Legal 500 2019 Alert
Article
CDH was recommended as a Top-Tier Firm in four practices areas, namely Corporate & Commercial/M&A; Construction; Dispute Resolution; and Real Estate. CDH was also recommended as a Leading Firm in the following seven practice areas: Banking & Finance, Competition, Employment, Investment Funds, Projects & Infrastructure, Tax and Mining.

Nine of our directors were listed in The Legal 500 EMEA's elite "Leading Lawyers" list: Ludwig Smith (Finance & Banking), Willem Jacobs (Corporate & Commercial/M&A), Chris Charter (Competition), Jurg van Dyk (Construction), Tim Fletcher (Dispute Resolution), Fiona Leppan (Employment), Attie Pretorius (Real Estate), William Midgley (Real Estate) and Emil Brincker (Tax & Exchange Control).

Wayne Murray, a Senior Associate in the Corporate & Commercial practice was recommended as a 'Next Generation Lawyer' for Investment Funds in The Legal 500 EMEA 2019 guide.

"We are honoured to be ranked in the global legal arena. The Legal 500's recognition of our practices and experts confirms our commitment to delivering excellent legal counsel and strategic business advice, across all our key practice areas and sectors," says CEO Brent Williams.

The full list of Legal 500 EMEA 2019 recommendations appears below: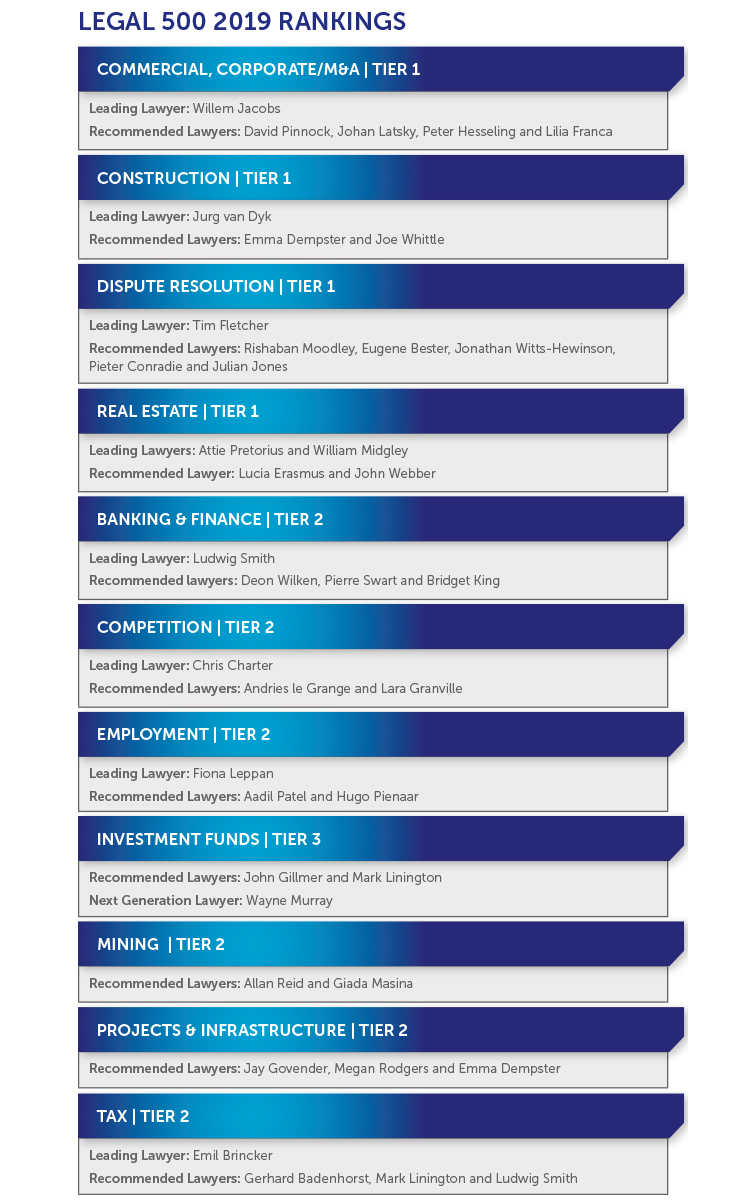 THE LEGAL 500'S 2019 EDITORIAL ON OUR PRACTICES AND LAWYERS:

CORPORATE & COMMERCIAL/M&A | TIER 1

The Legal 500 noted that CDH's Corporate & Commercial/M&A practice 'continues to be at the forefront of listed company transactions in South Africa with strong teams in both Johannesburg and Cape Town. The practice is also building its presence in private equity deals, is 'accessible and has a wide range of skills'. It was noted that Willem Jacobs is 'practical, solutions oriented and cost conscious' and David Pinnock is 'personable', 'gets the job done' and is recommended for private equity transactions. Johan Latsky, Peter Hesseling and Lilia Franca are also highly rated.

DISPUTE RESOLUTION | TIER 1

CDH's Dispute Resolution practice, recommended in Tier 1, 'has grown its presence in forensics, investigations and white-collar crime work'. The 'top-notch' Tim Fletcher leads the team, which includes prominent mining disputes expert Rishaban Moodley, banking disputes expert Eugene Bester and business-rescue specialist Julian Jones.

CONSTRUCTION | TIER 1

The Construction team was also ranked Tier 1 having 'led the market in renewable energy front-end work and government-side construction disputes'. According to The Legal 500's latest edition, the team has 'a good understanding of commercial aspects' and 'a great readiness to help with short deadlines'. Jurg van Dyk is a front-end leader, Emma Dempster is recommended for solar-rooftop projects and Joe Whittle is a key name for construction disputes.

REAL ESTATE | TIER 1

The Real Estate practice 'fields a considerable and experienced team that operates at the forefront of development, finance and acquisition work, and has taken a leading position in the evolution of REITs in South Africa'. Attie Pretorius, William Midgley, Lucia Erasmus and John Webber are key names in the space.

BANKING & FINANCE | TIER 2

The 2019 edition of The Legal 500 also acknowledged the firm's Banking & Finance practice for its notable work in 'preference share fundings, derivatives, structured lending and bank regulatory matters'. 'Deon Wilken heads the department, which also includes seasoned figure Ludwig Smith, DCM specialist Pierre Swart and derivatives expert Bridget King.'

COMPETITION | TIER 2

The Competition practice was lauded for its very strong technical knowledge coupled with strong commercial insight', and stands out for its 'excellent professional service delivery and proactive risk management and advice'. Chris Charter is 'smart and thoughtful', Andries le Grange is 'invaluable in merger applications' thanks to his 'sound industry knowledge' and Lara Granville is an emerging talent in the practice.

EMPLOYMENT | TIER 2

The Employment practice was acknowledged for their impressive work in retrenchment exercises and disputes involving the use of labour brokers. The guide recommended Hugo Pienaar, 'a leading figure in the road freight industry', and Aadil Patel and Fiona Leppan for having 'exceptional experience in the mining industry, especially in relation to union activities'.

INVESTMENT FUNDS | TIER 3

The Legal 500 2019 noted that the firm's Investment Funds team is building its standing in the industry thanks to the efforts of funds partner John Gillmer, who is 'solutions driven, responsive, and has a technical knowledge of the industry', along with senior tax structuring specialist Mark Linington. Senior Associate Wayne Murray 'also impresses'.

MINING | TIER 2

The firm's Mining practice 'continues to demonstrate its leading credentials in transactions and regulatory issues'. The firm is active across the mineral range, including in platinum, chrome and manganese, and acts for mining majors, mid-tier and juniors. Allan Reid is a recognised mining regulatory leader and Giada Masina is also highly rated.

PROJECTS & INFRASTRUCTURE | TIER 2

The Projects & Infrastructure practice 'is building its standing in energy and infrastructure projects across Africa'. The firm has earned key engagements in Namibia, Zambia, Zimbabwe, Kenya, Ethiopia, Senegal and other jurisdictions. The team's 'directors are available and work on a partnership basis with clients', 'are in touch with evolving market conditions' and have 'extensive practical project finance experience that translates into sound and practical advice'. Jay Govender advises a range of developers, lenders (including development finance institutions) and EPC contractors across the continent. She led the team that advised the Ethiopian government on the global competitive procurement conducted for the 100MW Metehara solar photovoltaic project. Emma Dempster has a fine record in major renewable energy projects and small-scale embedded generation. Megan Rodgers leads on upstream oil and gas projects.

TAX & EXCHANGE CONTROL | TIER 2

The Tax & Exchange Control practice 'is the undisputed leader in financial services-related tax issues thanks to the presence of Emil Brincker, who is, arguably, 'the number one tax adviser' in the jurisdiction. He and the team act for many of the major banks and financial institutions in South Africa and have an exceptional record in corporate tax and cross-border M&A, tax litigation, VAT and funds-related tax. Ludwig Smith remains a key name for hybrid financing instruments and preference share funding-related tax issues. Gerhard Badenhorst is a leading VAT expert and Mark Linington is at the forefront of corporate tax and fund formation tax issues'.

Thank you to all our clients for continuing to choose our firm as your strategic legal partner.
The information and material published on this website is provided for general purposes only and does not constitute legal advice. We make every effort to ensure that the content is updated regularly and to offer the most current and accurate information. Please consult one of our lawyers on any specific legal problem or matter. We accept no responsibility for any loss or damage, whether direct or consequential, which may arise from reliance on the information contained in these pages. Please refer to our full terms and conditions. Copyright © 2023 Cliffe Dekker Hofmeyr. All rights reserved. For permission to reproduce an article or publication, please contact us cliffedekkerhofmeyr@cdhlegal.com.
Subscribe
We support our clients' strategic and operational needs by offering innovative, integrated and high quality thought leadership. To stay up to date on the latest legal developments that may potentially impact your business, subscribe to our alerts, seminar and webinar invitations.
Subscribe