The Mining Charter 2010 v The Mining Charter 2017 – How does the new Charter affect you?
The Mining Charter 2010 v The Mining Charter 2017 – How does the new Charter affect you?
The Reviewed Broad-Based Black Economic Empowerment Charter for the South African Mining and Minerals Industry ("Mining Charter 3") came into force on 15 June 2017 and imposes huge financial, regulatory and compliance obligations on an already fragile South African mining industry.
21 Jun 2017
1 min read
Mining and Minerals Alert
Article
The Chamber of Mines has refused to endorse Mining Charter 3 and has indicated its intention to institute interdict proceedings to prevent Mining Charter 3 coming into force, until the courts have ruled on a declaratory order application as to the applicability of the Once Empowered Always Empowered principle and a review application as to the reasonableness of Mining Charter 3's contents.
How does Mining Charter 3 affect your business and how does it compare to the 2010 Mining Charter? We set out below a side by side summary of the 2010 Mining Charter requirements and the requirements of Mining Charter 3, highlighting the differences between the respective charters. This note does not analyse or provide any legal opinion or commentary on the respective charters. Further, there are a number of drafting issues and anomalies that exist in Mining Charter 3. We have, however, set out the requirements below as per the current language of Mining Charter 3.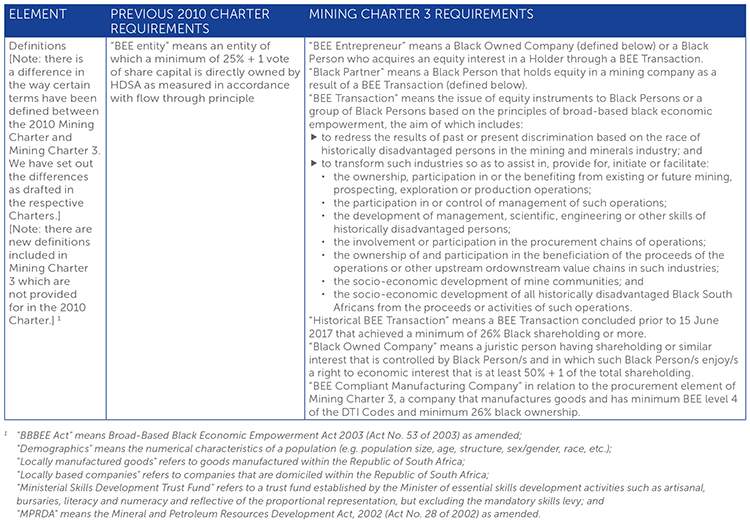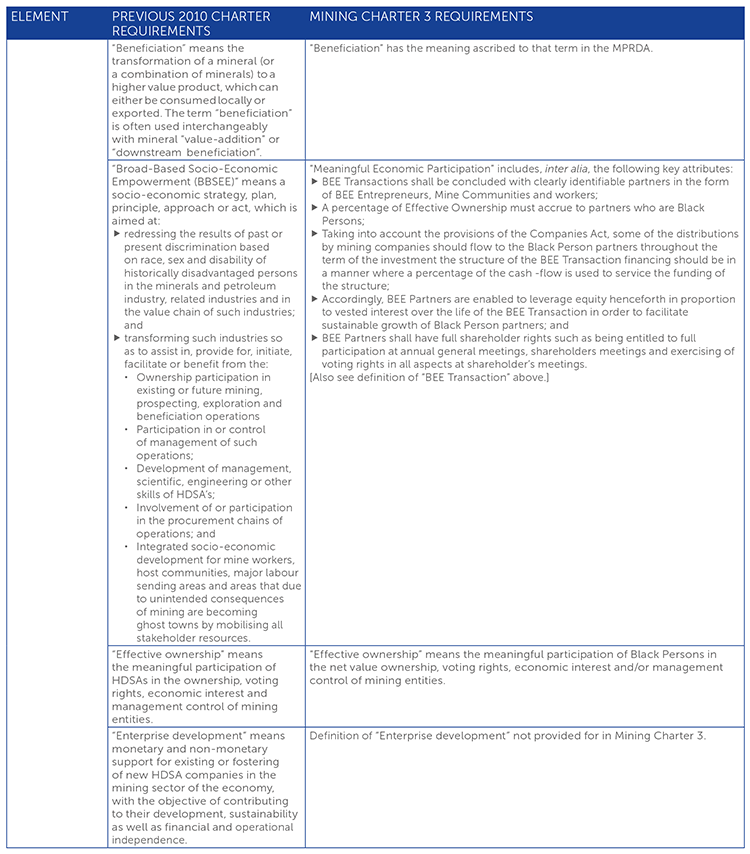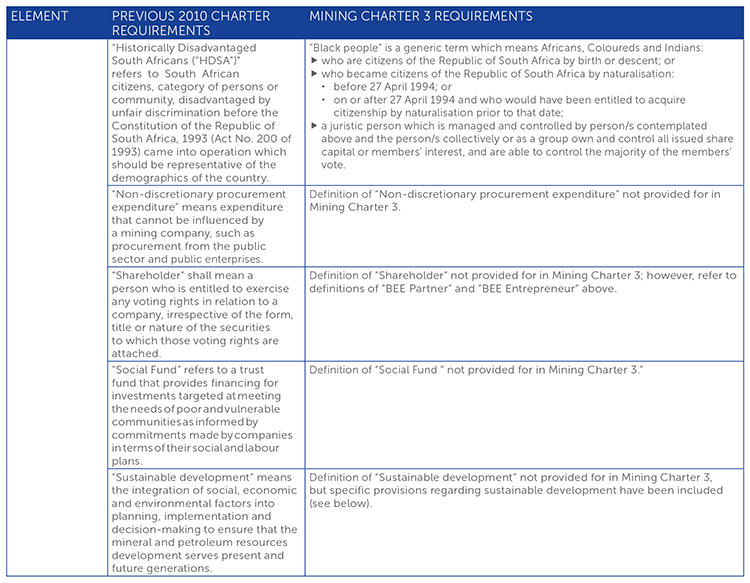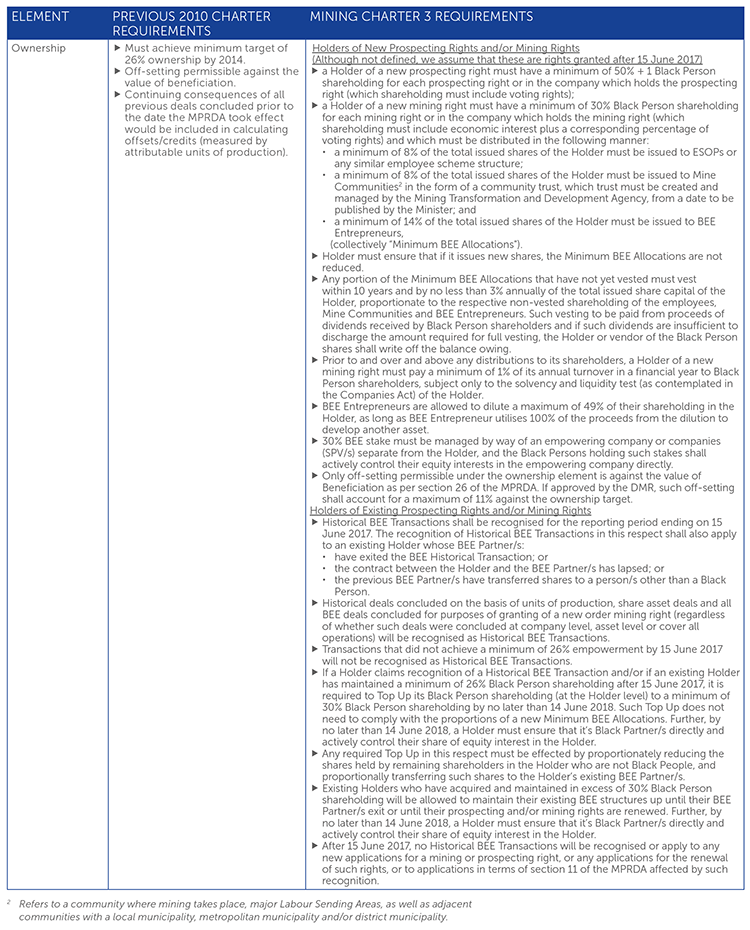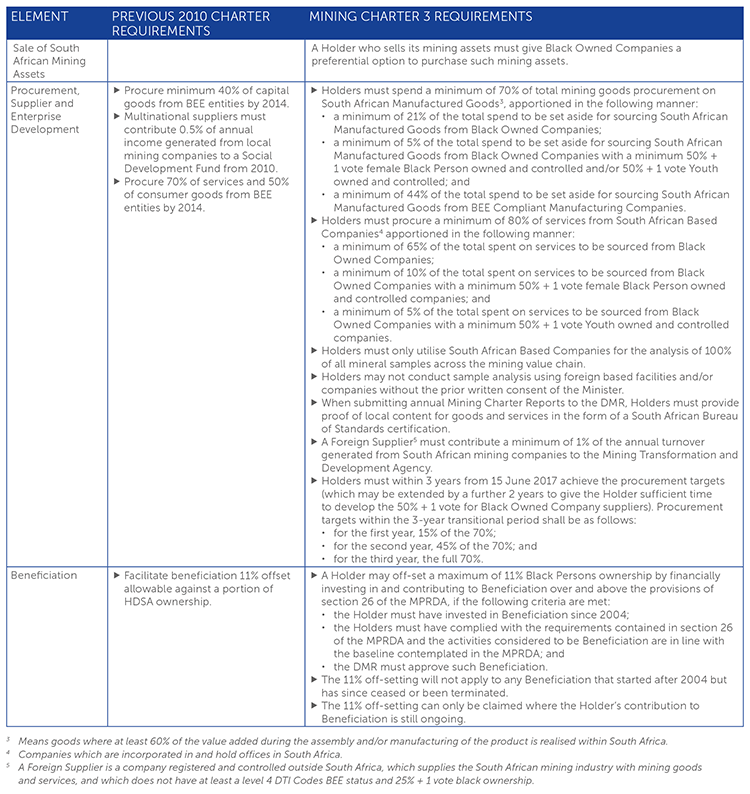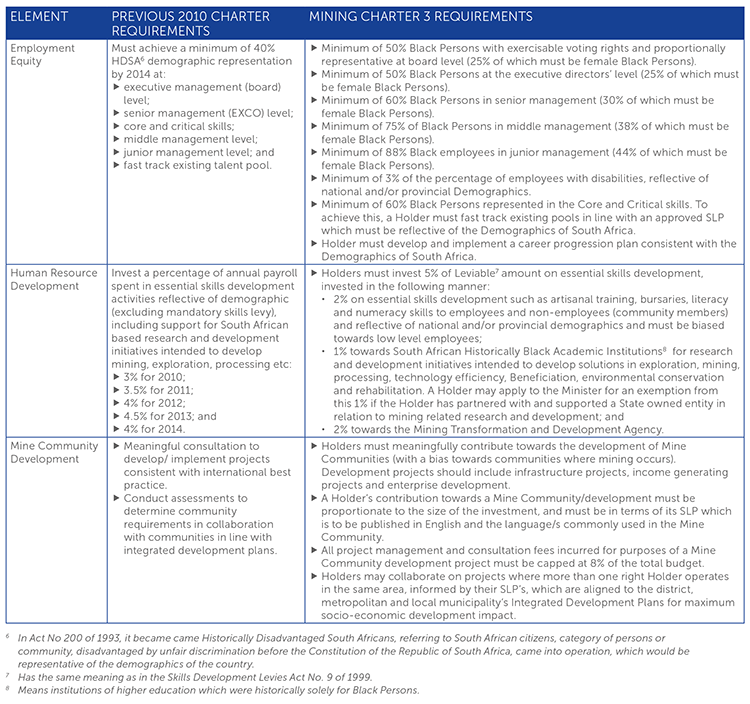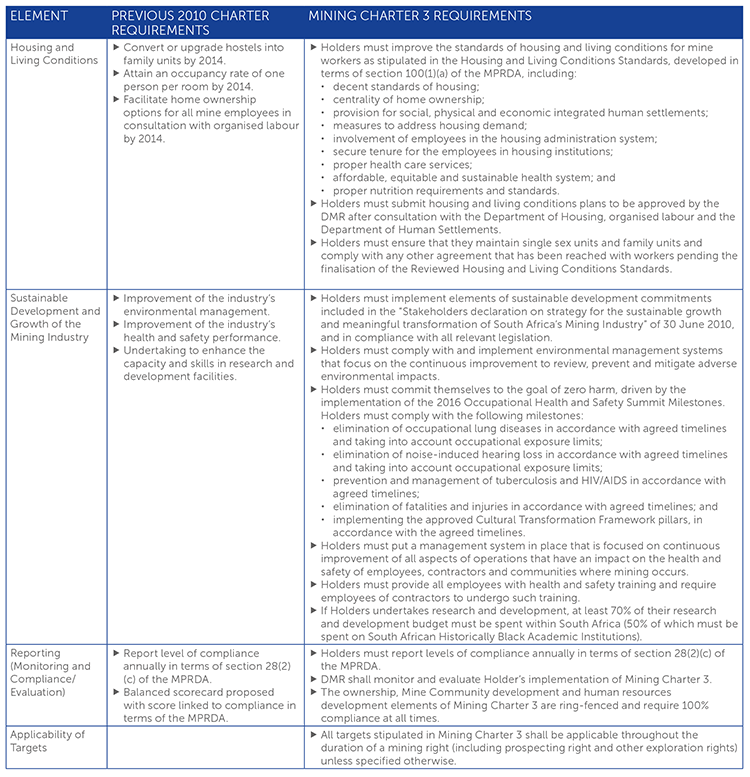 The information and material published on this website is provided for general purposes only and does not constitute legal advice. We make every effort to ensure that the content is updated regularly and to offer the most current and accurate information. Please consult one of our lawyers on any specific legal problem or matter. We accept no responsibility for any loss or damage, whether direct or consequential, which may arise from reliance on the information contained in these pages. Please refer to our full terms and conditions. Copyright © 2023 Cliffe Dekker Hofmeyr. All rights reserved. For permission to reproduce an article or publication, please contact us cliffedekkerhofmeyr@cdhlegal.com.
Subscribe
We support our clients' strategic and operational needs by offering innovative, integrated and high quality thought leadership. To stay up to date on the latest legal developments that may potentially impact your business, subscribe to our alerts, seminar and webinar invitations.
Subscribe