Cliffe Dekker Hofmeyr receives strong recognition from clients in the latest Chambers Global Rankings
Cliffe Dekker Hofmeyr receives strong recognition from clients in the latest Chambers Global Rankings
18 Mar 2016
1 min read
Client Alert - Chambers Global
Article
Cliffe Dekker Hofmeyr's (CDH) specialist lawyers and practice areas continue to make significant strides in the latest edition of the Chambers Global, the pre-eminent guide that ranks the top lawyers and leading firms worldwide. In total 13 practices and 32 directors from CDH were acknowledged in this year's guide.

Chambers identifies and ranks the most outstanding law firms and lawyers in over 180 jurisdictions throughout the world. The qualities on which rankings are assessed include technical legal ability, professional conduct, client service, commercial astuteness, diligence, commitment, and other qualities most valued by the client.
According to the latest edition CDH was ranked band one in Capital Markets: Equity, Corporate/M&A, Environment and IT & Telecommunications.
Individual lawyers ranked in band one include Johan Latsky (Capital Markets: Equity), Terry Winstanley (Environment), Preeta Bhagattjee (IT & Telecommunications),
Pieter Conradie (Dispute Resolution), Gavin Noeth (Projects & Energy), Ludwig Smith (Banking and Finance) and Emil Brincker (Tax).
New rankings went to Joe Whittle (Construction) and Jay Govender (Projects & Energy) and an up-and-coming ranking went to Ruaan van Eeden (Tax).
Peter Hesseling (Corporate/M&A) and Fiona Leppan (Employment) moved up in
their rankings.
Chambers is a powerful source of information and it is heartening to receive this form of acknowledgement and be recognised as a go-to firm for businesses in need of trusted, responsive and innovative legal expertise.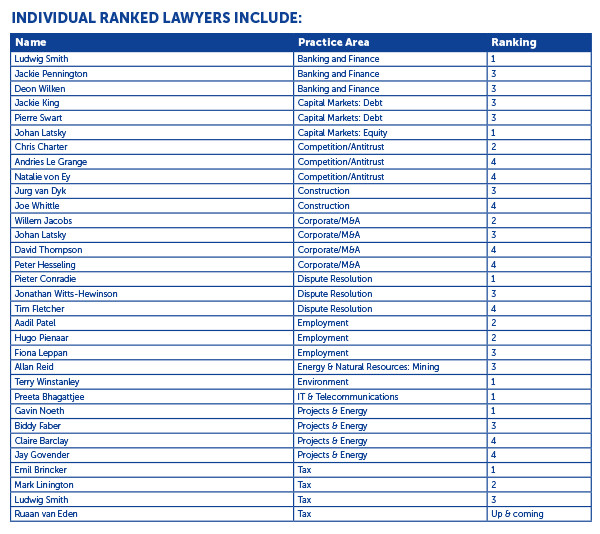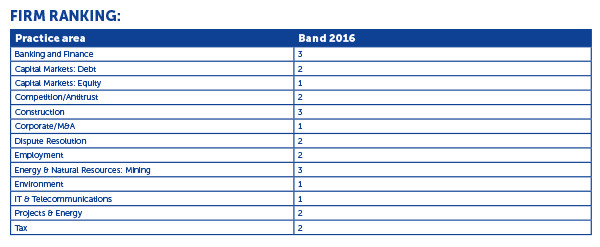 The information and material published on this website is provided for general purposes only and does not constitute legal advice. We make every effort to ensure that the content is updated regularly and to offer the most current and accurate information. Please consult one of our lawyers on any specific legal problem or matter. We accept no responsibility for any loss or damage, whether direct or consequential, which may arise from reliance on the information contained in these pages. Please refer to our full terms and conditions. Copyright © 2023 Cliffe Dekker Hofmeyr. All rights reserved. For permission to reproduce an article or publication, please contact us cliffedekkerhofmeyr@cdhlegal.com.
Subscribe
We support our clients' strategic and operational needs by offering innovative, integrated and high quality thought leadership. To stay up to date on the latest legal developments that may potentially impact your business, subscribe to our alerts, seminar and webinar invitations.
Subscribe