The Central Bank of Kenya publishes guidance on climate-related risk management
The Central Bank of Kenya publishes guidance on climate-related risk management
In the run up to the 26th UN Climate Change Conference of the Parties (COP 26) that will be held in Glasgow between 31 October and 12 November 2021, the Central Bank of Kenya (CBK) has published Guidance on Climate-Related Risk Management (Guidance), applicable to institutions licensed under Kenya's Banking Act. These institutions include commercial banks and mortgage finance companies.
21 Oct 2021
7 min read
Finance & Banking and Environmental Law Alert
Article
At a glance
The Central Bank of Kenya (CBK) has published Guidance on Climate-Related Risk Management for banks and mortgage finance companies, signaling a push to green the finance sector and address climate change risks.
The Guidance requires institutions to embed climate-related financial risks into their governance arrangements, incorporate them into existing risk management practices, and develop disclosure approaches for these risks.
Institutions are responsible for establishing robust climate governance arrangements, including oversight by the board of directors, proper strategy formulation, and incorporating climate-related risks into their risk management frameworks. They must also provide internal and external reporting on climate-related risks.
The Guidance published on 15 October 2021 is Kenya's banking sector's latest push to green the finance sector. Traditionally, banks have approached sustainability issues as part of their corporate social responsibility actions, and some banks have, for example, over the past few years, voluntarily published annual sustainability reports. Several initiatives have reflected the industry's concrete acknowledgement that sustainability is and should be a core concern for the banking sector. These include the Kenya Banking Sector Charter, which calls for ethical banking, the publication of the Kenya Bankers Association Sustainable Finance Guiding Principles, and the introduction of the CBK Internal Capital Adequacy Assessment Process for the banking sector that requires banks to maintain sufficient capital commensurate to all material risks they are exposed to.
Going hand in hand with this recognition, has been tacit understanding that climate change considerations are part and parcel of sustainability. The recently published Guidance, however, offers the first explicit guidance on climate change risk management in Kenya, signalling that time for more clarity and action is here, in line with global trends and local needs.
In this publication, we unpack the salient elements of the Guidance and set out what it means for Kenya's banking sector.
What is the basis of the Guidance?
The Guidance is issued under section 33(4) of the Banking Act, which empowers CBK to guide institutions to maintain a stable and efficient banking and financial system.
In providing the Guidance, CBK recognises the fact that with an increase in the frequency and magnitude of extreme weather events, climate change is a major risk to human well-being. It further acknowledges that the financial risks posed by climate change require special attention and different management from other conventional financial risks affecting the banking sector, and efforts to mitigate and adapt to climate change also offer business opportunities that the sector can harness through appropriate climate action.
The Guidance follows global practice on climate risk management in finance and has been informed by the Task Force on Climate-related Financial Disclosures (TCFD) established by the Financial Stability Board, the Basel Committee on Banking Supervision, and the Central Banks and Supervisors Network for Greening the Financial System, as well as guidance and guidelines on climate-related risk management by from other jurisdictions, including England, Hong Kong and Singapore.
What are the aims of the Guidance?
The Guidance sets out basic requirements that institutions should consider adopting to effectively entrench climate-related financial risks in their risk management frameworks, so as to ensure an integration of climate-related risk management in business decisions and activities. Its key aims are to require banks to:
embed the consideration of the financial risks from climate change in their governance arrangements;
incorporate the financial risks from climate change into their existing financial risk management practices; and
develop an approach to disclosure on the financial risks from climate change.
What responsibilities are placed on institutions?
The Guidance places governance and reporting responsibilities on institutions, with clear allocation of responsibilities between an institution's board of directors and senior management.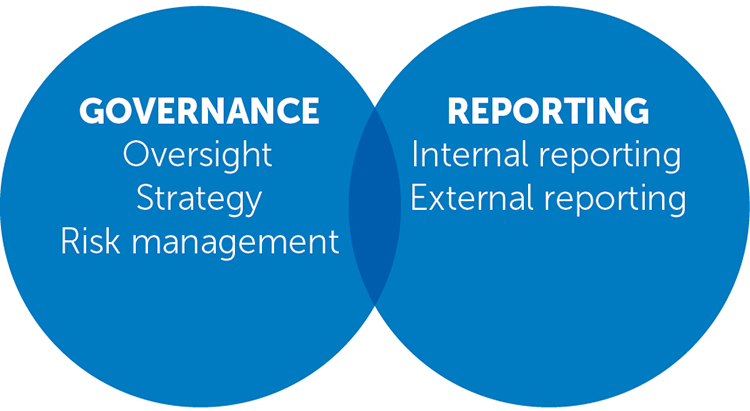 Governance
Institutions are required to establish robust climate governance arrangements to effectively identify, manage, monitor and report the risks they are, or might be, exposed to, both on an individual and consolidated basis. This entails a focus on oversight, strategy and risk management.
Oversight
An institution's board is required to oversee the institution's exposure and responsibilities to climate-related issues such as ensuring climate risks are adequately embedded in the institution's risk management framework. In ensuring effective oversight, the Guidelines require the board to be regularly furnished with relevant management information and major policy updates on climate-related issues.
The board is particularly required to:
actively oversee the development and implementation of the institution's climate strategy; and
set the institution's overall risk appetite by approving the risk appetite statement (RAS) recommended by senior management. In so doing, the board should have due consideration to the proportionate approach advocated for in the Guidance for how climate risks should be integrated into the existing risk appetite framework, and the need for, at the least, annual reviews of the RAS.
Strategy
The Guidelines call on institutions' business strategies to reflect their understanding of the impacts of climate-related risks on their business environment with an emphasis on proper formulation, planning and implementation of climate risk strategy.
In strategy formulation, institutions are required to undertake a proper strategic assessment process that considers climate-related risk over different time periods (short, medium and long term), and include stakeholder engagement in the strategy formulation process.
The Guidance also requires proper alignment of internal resources and processes for effective strategy implementation, enhancement of organisational structure and business process, as appropriate, and sufficient allocation of resources, whether monetary or non-monetary, in the implementation of the institution's climate strategy.
Risk management
Institutions are required to incorporate climate-related risk considerations into their risk management framework. This is to be based on a comprehensive assessment of how and to what extent climate change would affect an institution's portfolios and operations, including the financial, reputational, and strategic risk implications. Risk management entails risk identification and measurement, monitoring and reporting, control and mitigation, and disclosure of climate-related information.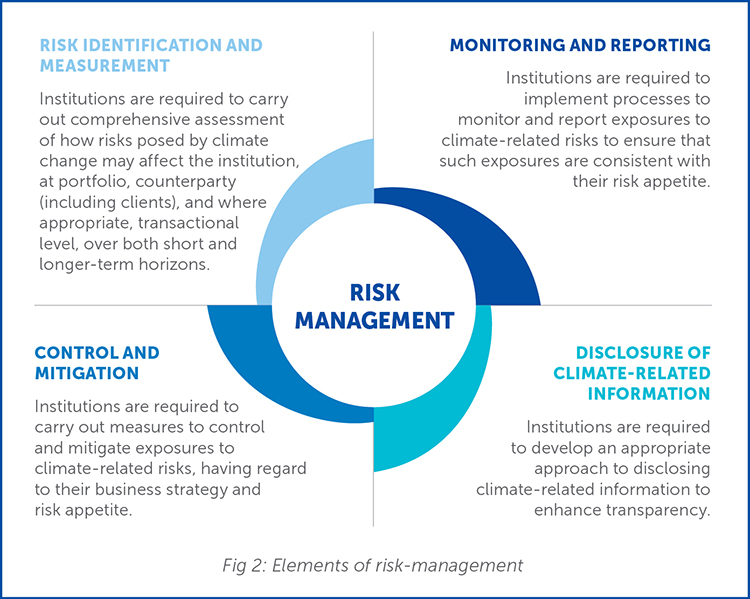 Reporting
The Guidance requires both internal and external reporting as highlighted below:
Internal reporting
Periodic internal reporting is to be made to the board and senior management based on the bank's internal strategy for climate-related risk management. An institution will therefore need to develop this strategy as well as the requisite reporting structures. With regards to content, internal reports are to provide status updates on the identification, assessment, and management of climate-related risks. These reports are to contain aggregated risk data reflecting the institution's exposure to climate-related and environmental risks, with a view to enabling the board to make informed decisions.
External reporting
Institutions are required to develop and submit to CBK a time-bound plan, signed by both the chairman and chief executive officer (CEO) of the institution and approved by the board, setting out how it plans to implement the Guidance. The plan must be approved by the board by 30 June 2022. Subsequently, each institution is required to submit a quarterly report to CBK on the progress of its implementation of the plan within 10 days after the end of every calendar quarter, from the quarter ending on 30 September 2022.
Who bears responsibility for implementation of the Guidance?
The board and senior management have the responsibility to formulate and implement climate-related financial risk management strategies, policies, procedures, guidelines and set minimum standards for an institution.
What is the legal bearing of the Guidance?
With the guidelines being issued under section 33(4) of the Banking Act, institutions will be expected to comply with the Guidance in the same way they do the CBK Prudential Guidelines. According to the Banking Act, the CBK may revoke an institution's licence where it fails to comply with rules or directions issued by the CBK under the Act. The Banking (Penalties) Regulations, 1999 also set out offences and penalties for breaching provisions of the Act or any directions given by the CBK.
The transition period for compliance is just under two years, as is explained below. The compliance approach is, however, staggered, given the complexities of climate change and the understanding that it is not feasible to require adoption of the specific climate-related risk and opportunity requirements at once.
What is the way forward?
The Guidance sets out a roadmap for implementation and notes that requirements may be changed as global practices on climate risk management evolve. It therefore proposes that the climate-related risk requirements it sets out are gradually adopted.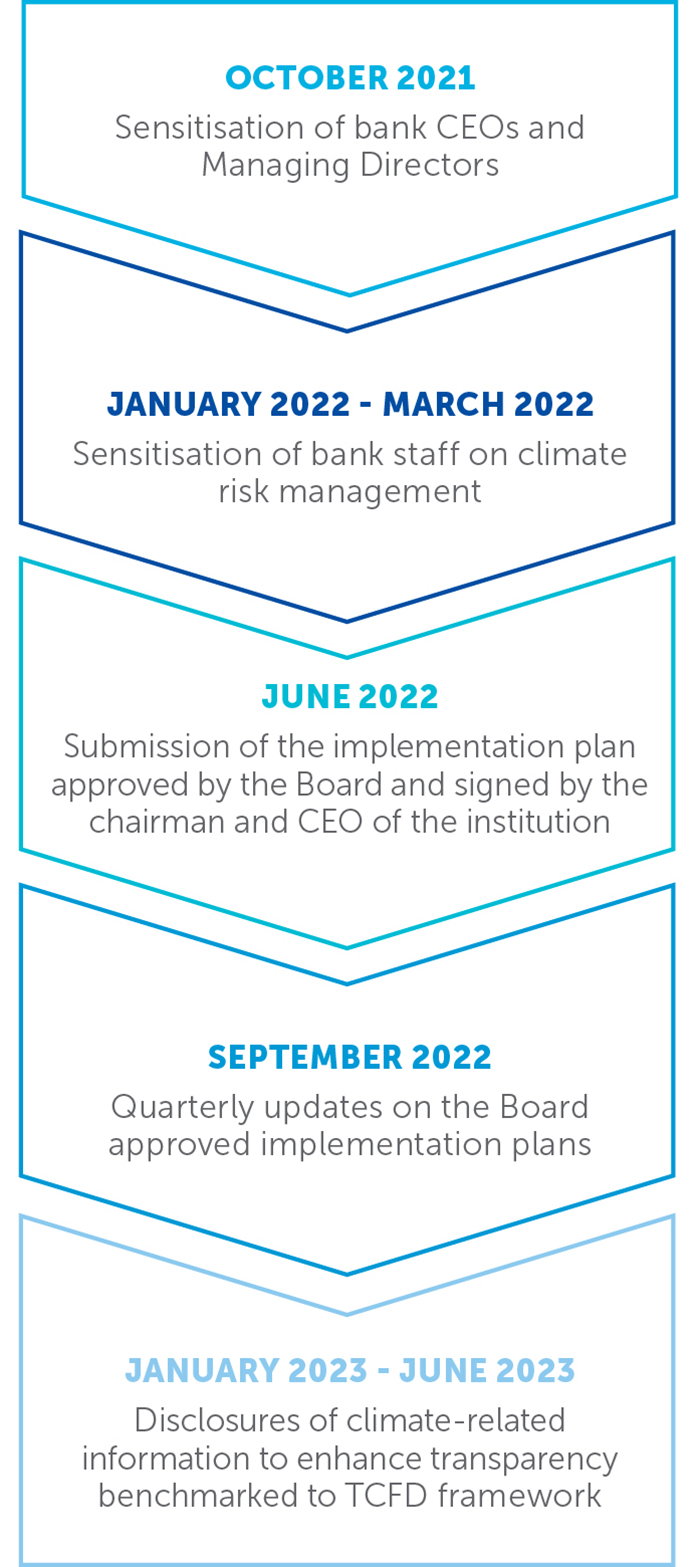 Conclusion
The issuance of the Guidance marks a significant milestone for Kenya as it places institutions at the forefront of climate action. The Guidance significantly emboldens and co-ordinates institutional efforts to manage climate and environment related risks and seize emerging opportunities.
The requirements on oversight, strategy, risk management and reporting are benchmarked with global practices and structured to recognise the evolving nature of climate change. If properly adhered to, institutions will be able to identify, measure, quantify, and monitor exposure to climate risk in a flexible yet transparent manner. As such, Kenya's banking sector regulator has with the Guidance, affirmed its steering of the ship towards a low-carbon future.
It is now all systems go. Institutions must, if they have not already done so, start to put in place the requisite talent, tools, templates, and technology to achieve compliance.
The information and material published on this website is provided for general purposes only and does not constitute legal advice. We make every effort to ensure that the content is updated regularly and to offer the most current and accurate information. Please consult one of our lawyers on any specific legal problem or matter. We accept no responsibility for any loss or damage, whether direct or consequential, which may arise from reliance on the information contained in these pages. Please refer to our full terms and conditions. Copyright © 2023 Cliffe Dekker Hofmeyr. All rights reserved. For permission to reproduce an article or publication, please contact us cliffedekkerhofmeyr@cdhlegal.com.
Subscribe
We support our clients' strategic and operational needs by offering innovative, integrated and high quality thought leadership. To stay up to date on the latest legal developments that may potentially impact your business, subscribe to our alerts, seminar and webinar invitations.
Subscribe