Limited Companies and Intellectual Property Commission (CIPC) services during the National COVID-19 Lockdown
Limited Companies and Intellectual Property Commission (CIPC) services during the National COVID-19 Lockdown
In response to the national COVID-19 lockdown (lockdown) that began at midnight on Thursday, 26 March 2020, and which is scheduled to end on 16 April 2020, the CIPC announced certain operational measures that it would put in place for the duration of the lockdown.
8 Apr 2020
6 min read
Corporate and Commercial Alert
Article
The CIPC, on 24 March 2020, confirmed that it would continue to provide the following limited services through either its e-Services and/or BizPortal online portals during the lockdown: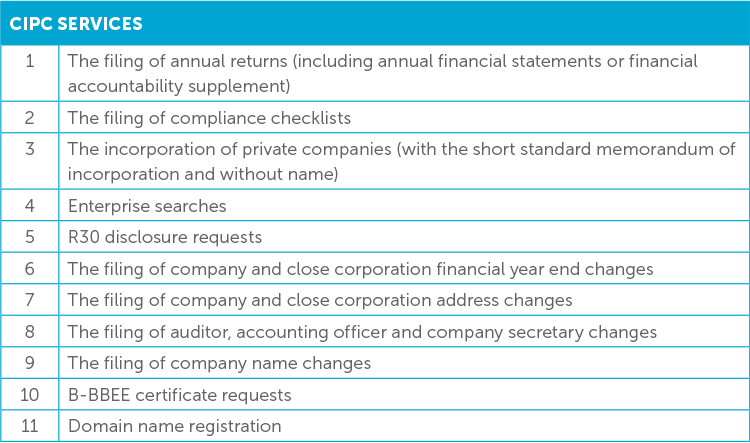 It is understood that the CIPC will suspend all of its service-related mailboxes and that the upload functionality on its platforms will be de-activated during the lockdown.
In these uncertain times, it is important that the board of directors (board) and shareholders (shareholders) of companies are aware of the implications that the limited services offering by the CIPC may have on certain corporate actions. In this alert, we will revisit a few key concepts and principles relating to common corporate actions that companies may wish to effect during the lockdown.
Registration of new private companies and company name reservations
During the lockdown, the CIPC will only register new private companies with the short standard memorandum of incorporation (MOI), as set out in the regulations to the Companies Act 71 of 2008 (Companies Act). The CIPC will not register other profit and non-profit companies during the lockdown.
Unless a name has been reserved prior to 24 March 2020, a customer will only be able reserve a name and file the relevant company name change after the lockdown. All company name reservations that are due to expire during the period of 25 March 2020 to 15 April 2020 will automatically be extended until 30 April 2020.
Amendments to the documents governing a company
The documents governing a company may comprise an MOI (or Memorandum and Articles of Association, if an MOI has not been adopted), a shareholders agreement (shareholders agreement) and governance rules (rules), if any.
Shareholders are generally entitled to amend a company's MOI, which includes the adoption of a new MOI in substitution of an existing MOI, by passing a special resolution. Amendments to an MOI adopted by shareholders (other than name changes) will take effect on the later of (i) the date on, and time at, which the prescribed notice of amendment (notice of amendment) is filed with the CIPC, or (ii) the date, if any, set out in the notice of amendment. Companies are required to file the prescribed notice of amendment within 10 business days after the amendment has been approved.
Based on the CIPC's limited list of services and the suspension of its service-related mailboxes, it is unlikely that companies will be able to file any amendments to MOIs (other than name changes in limited circumstances), with the consequence that any such amendments will not take effect during the lockdown. This may have far-reaching, and potentially adverse consequences, for companies that require amendments to their capital structure and/or changes to their governance provisions such as reserved matters and/or the powers of the board or shareholders which may be necessitated by the changing economic climate in which companies currently operate.
Unless the MOI of a company provides otherwise, a board may make, amend or repeal necessary and incidental rules relating to the governance of the company, and which rules will take effect on a date that is the later of (i) 10 business days after such rule/s is filed with the CIPC or (ii) the date specified in the rule. As with the amendments to MOIs, any new or amended rules, which have not yet been filed, will not take effect during the lockdown.
In contrast to amendments to MOIs and rules, the amendment of an existing shareholders agreement, or the conclusion of a new shareholders agreement, need not be filed with, or approved by, the CIPC for it to become effective. The Companies Act provides that shareholders agreements must be consistent with the MOI of a company. This means that the conclusion of a shareholders agreement, or the amendment of an existing shareholders agreement, may potentially be considered as a stopgap measure during the lockdown should a company be required to respond to any short-term funding or governance needs.
Changes to boards
A prescribed notice of change of directors (notice of change of directors) must be filed with the CIPC within 10 business days after a change of information or composition of the board. Notwithstanding the latter, changes to a board are not required to be filed with, or be registered by, the CIPC for such changes to take effect in law.
Provided that a person is not ineligible or disqualified to be a director, a person may be appointed or elected to be a director of a company, and such person will become entitled to serve as a director when that person has been validly appointed or elected and has delivered to the company a written consent to serve as its director. Similarly, resignations are final and unilateral acts, and generally become effective when tendered.
Companies will not be able to file any notices of change of directors during the lockdown. The users of information retrieved from the CIPC should therefore take caution as the records of the CIPC may not reflect changes made to boards during the lockdown.
CIPC Annual Returns (Annual Returns) and compliance checklists
Every company is required to file an annual return in the form prescribed by the CIPC within 30 business days after the anniversary of its date of incorporation.
Companies that are required to have their annual financial statements (AFS) audited in terms of the Companies Act (e.g. public companies, companies required to have audited AFS in terms of their MOIs, companies with public interest scores of at least 350, etc.) are also required to submit their audited AFSs to the CIPC. All other companies are required to file a Financial Accountability Supplement setting out certain basic information relating to the financial affairs of the company.
With effect from 1 January 2020, the filing of a compliance checklist by all companies, to confirm their compliance status in respect of certain provisions of the Companies Act, is mandatory.
The CIPC has provided an indulgence to all companies that have Annual Return filing periods that fall between 25 March 2020 and 15 April 2020, by extending such filing periods until 30 April 2020. The effect of the latter is that penalties, the filing of compliance checklists and the filing of AFSs are also deferred to 30 April 2020.
The CIPC also indicated that it will not take any action to place non-compliant companies and close corporations into deregistration, or finally deregister any company or close corporation until further notice.
Impact
The CIPC recognises that during the lockdown it will not be able to provide its full suite of services, and companies will equally find it difficult to comply with their CIPC compliance obligations. While the indulgences granted by the CIPC is welcomed, it must be noted that the suspension of the ability to file amendments to MOIs of companies during the lockdown may potentially place further strain on companies that are required to effect changes to their capital structures and governance provisions in reaction to the fast-changing economic climate, largely triggered by the COVID-19 outbreak which has changed the economic landscape of at least 180 countries, including South Africa, within a matter of weeks.
The information and material published on this website is provided for general purposes only and does not constitute legal advice. We make every effort to ensure that the content is updated regularly and to offer the most current and accurate information. Please consult one of our lawyers on any specific legal problem or matter. We accept no responsibility for any loss or damage, whether direct or consequential, which may arise from reliance on the information contained in these pages. Please refer to our full terms and conditions. Copyright © 2023 Cliffe Dekker Hofmeyr. All rights reserved. For permission to reproduce an article or publication, please contact us cliffedekkerhofmeyr@cdhlegal.com.
Subscribe
We support our clients' strategic and operational needs by offering innovative, integrated and high quality thought leadership. To stay up to date on the latest legal developments that may potentially impact your business, subscribe to our alerts, seminar and webinar invitations.
Subscribe