Chambers Africa Awards 2021: CDH shortlisted for South Africa Law Firm of the Year
Chambers Africa Awards 2021: CDH shortlisted for South Africa Law Firm of the Year
A result of extensive objective research by Chambers' dedicated team of over 200 analysts, CDH's nomination as the South Africa Law Firm of the Year at the upcoming Chambers Africa Awards 2021 confirms our firm's position at the pinnacle of the profession. Chambers, a leading source of legal market intelligence for over 30 years, identifies and ranks the most outstanding law firms and lawyers in over 180 jurisdictions throughout the world.
19 Nov 2020
1 min read
CDH Alert
Article
This notable recognition follows CDH's outstanding practice and expert rankings in Chambers' 2020 guides, published earlier this year. We highlight these achievements below.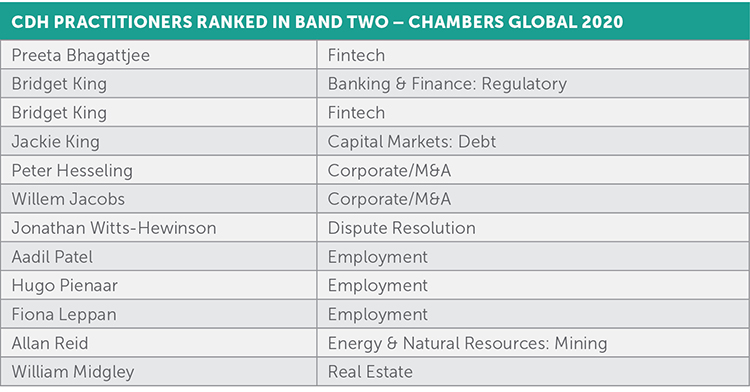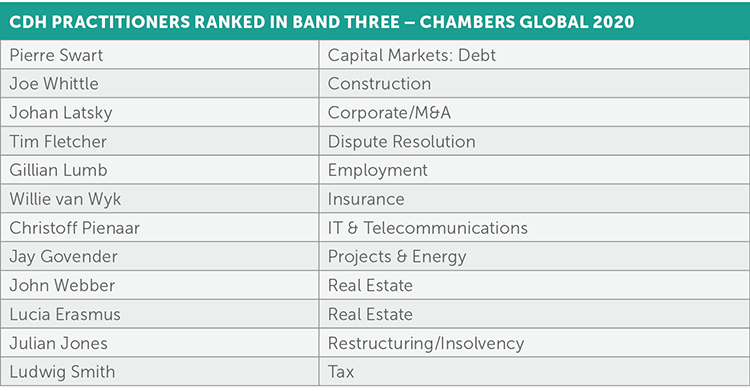 The information and material published on this website is provided for general purposes only and does not constitute legal advice. We make every effort to ensure that the content is updated regularly and to offer the most current and accurate information. Please consult one of our lawyers on any specific legal problem or matter. We accept no responsibility for any loss or damage, whether direct or consequential, which may arise from reliance on the information contained in these pages. Please refer to our full terms and conditions. Copyright © 2023 Cliffe Dekker Hofmeyr. All rights reserved. For permission to reproduce an article or publication, please contact us cliffedekkerhofmeyr@cdhlegal.com.
Subscribe
We support our clients' strategic and operational needs by offering innovative, integrated and high quality thought leadership. To stay up to date on the latest legal developments that may potentially impact your business, subscribe to our alerts, seminar and webinar invitations.
Subscribe