Section 24C provides a deduction for future expenditure that will be incurred by a taxpayer in the performance of his obligations under a contract from which income has been derived and essentially provides relief where a mismatch between income and expenditure occurs in a year of assessment. Complex accounting and tax rules relating to the recognition of revenue from construction contracts could have an impact on the correct calculation of a section 24C allowance.
Introduction
By reading through the annual reports of the various JSE listed construction companies one generally finds that contract revenue is recognised using the stage of completion (SOC) method, also known as the percentage completion method. Under the SOC method contract revenue is only recognised to the extent that contract costs were incurred.
But where does the SOC method leave a construction company from an income tax point of view?
What becomes evident from this article is that the SOC method falls short of accurately determining "gross income" for purposes of section 1 to the Income Tax Act 58 of 1962 (the Act), which directly impacts the calculation of an allowance under section 24C.
Accounting vs Tax
Unless specifically provided for in the Act, for example section 24J, the use of generally accepted accounting practice for calculating an income tax liability is not allowed, as stated in CIR v Felix Schuh (SA) (Pty) Ltd 56 SATC 57 - "the Court is concerned with the deductions permitted in the Act and not with debits or other provisions made in a taxpayer's accounts, even though these may be regarded as prudent and proper from an accounting point of view."
The same holds true for a construction company using the SOC method to recognise revenue for accounting purposes. To ensure that the correct amount of revenue is declared for purposes of the Act, a construction company must make certain adjustments to accounting revenue so as to ensure that the "gross income" is correctly determined. As far as is relevant to this article, "gross income" is defined in section 1 to the Act and means - "...the total amount, in cash or otherwise, received by or accrued to...such resident;"
"Accrued to" means that a taxpayer must have an unconditional entitlement to an amount (see CIR v People's Stores Walvis Bay (Pty) Ltd 52 SATC 9).
To illustrate how "gross income" is determined in the context of a construction contract and consequently what income is subject to tax, the typical billing process of a contract is discussed below.
A quantity surveyor is usually engaged to certify the contract work done up to a particular date. The quantity surveyor issues a payment certificate to the contractor, which will in turn be used to prepare and issue a tax invoice to the client. The issuing of a payment certificate means that all conditions on the contract up to that point have been satisfied and the contractor is unconditionally entitled to claim part payment. For purposes of the Act, an amount has therefore accrued and is subject to income tax - this not necessarily the revenue recognised under the SOC method for accounting purposes (as illustrated in the example below).
Claiming a section 24C allowance
A taxpayer is entitled to a section 24C allowance where an amount was received, or has accrued in terms of any contract; which will be utilised in whole or in part to finance future expenditure to be incurred in performance of an obligation under the same contract. Generally, a section 24C allowance is based on the ratio that the total estimated expenditure bears to the contract price or estimated gross income to be derived from the contact, but this method is not prescriptive. Taxpayers are required to estimate, as accurately as possible, the expenses that need to be incurred in order to meet their obligations under a specific contract.
Section 24C(3) states that an allowance deducted in any year of assessment is deemed to be income received by or accrued to the taxpayer in the immediate succeeding year of assessment. A new reserve must be calculated each year for the purposes of section 24C, if necessary. The Income Tax Practice Manual further states that an allowance under section 24C may not create or increase an assessed loss. This means that if a taxpayer is already in an assessed loss position and a deduction under section 24C would result in an increase of that loss, no allowance may be claimed.
Practical section 24C example
To illustrate the effect of using accounting revenue to calculate a section 24C allowance versus tax revenue, the following typical construction contract is used -
ABC Construction (Pty) Ltd - Project "A"

- Contract value R 100,000,000
- Estimated contract costs R 90,000,000
- Estimated profit R 10,000,000
- Costs as % of total contract 90%
- Contract duration 3 years

The accounting policy of ABC Construction (Pty) Ltd is to recognise construction revenue based on the stage of completion method. ABC Construction (Pty) Ltd engaged the services of a quantity surveyor who independently certified that after year one, Project "A" was 30% complete, year two 80% and at the end of year three 100%.

To assist ABC Construction (Pty) Ltd with the acquisition of raw materials for Project "A", the client agreed to make an advance payment of R 50,000,000 in year one. In line with its accounting policy, ABC Construction (Pty) Ltd credited the R 50,000,000 as a current liability in the balance sheet on receipt of the payment.
An important aspect that should be borne in mind is that the annual financial statements still form the starting point from which a construction company must determine its tax liability. The difficulty arises where the person completing the tax return does not understand the accounting principles applied and consequently whether an adjustment is required to reflect the correct tax position. Based on the information provided above, the effect of misinterpreting tax legislation, specifically with regard to construction revenue, is illustrated below -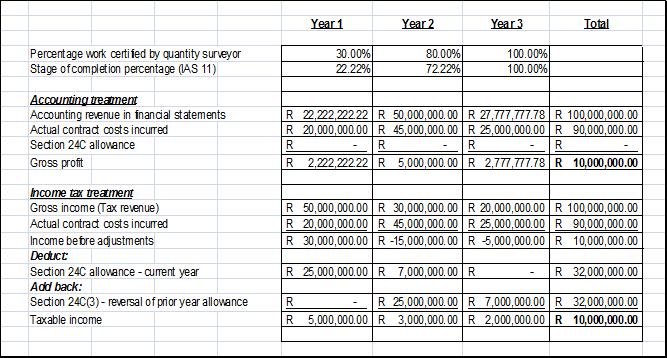 The example above illustrates the challenge faced by a construction company in calculating its taxable income. There is a clear difference between revenue calculated on the SOC method and that which is determined with reference to the work certified by a quantity surveyor. For income tax purposes the SOC method should be ignored because it merely reflects income in proportion to costs incurred and not the amount to which a contractor is unconditionally entitled to.
Another important aspect illustrated by the example is the difference between accounting profit and taxable income. Overall the expected profit of R 10 million is the same for accounting and tax purposes, however, the timing is very different.
Analysis of year one
ABC Construction (Pty) Ltd received R50 million income in advance, which was correctly credited as a current liability for accounting purposes on day one. In year one R30 million of the initial R50 million advance is certified and billed, meaning R20 million remains as an amount received in advance. For income tax purposes the R20 million balance is an amount received for purposes of the "gross income" definition and subject to tax in full, unless structured as a loan. The total tax turnover or "gross income" for Project "A" in year one is therefore R50 million, being 30% of the total contract value certified plus the balance of R20 million received in advance.
The effect of having to subject the income received in advance to tax is mitigated by claiming of a section 24C allowance of R25 million. Under the SOC method no section 24C allowance may be claimed for year one of Project "A".
Analysis of year two and three
Where the total "gross income" to date is brought into account, ABC Construction (Pty) Ltd is entitled to a section 24C allowance of R7 million for year two. Section 24C(3), requires that the R25 million allowance claimed in year one be added back in the determination of taxable income.
In year three the contract is completed and no further section 24C allowance is available. Once again, under section 24C(3) the R7 million allowance claimed in year two is added back in the determination of taxable income.
Conclusion
The substantial difference between the accounting and tax treatment of construction companies makes compliance extremely difficult and requires specialist skills in both areas. If proper care is not given to this area it could not only result in lost opportunities but also expose the construction company to attack by the South African Revenue Service.
Construction companies must therefore take care when completing an annual income tax return and keep in mind that if an income statement or balance sheet item is treated in a specific way from an accounting point of view it does not mean that the income tax treatment will follow suit.
Ruaan van Eeden
Senior Associate, Tax