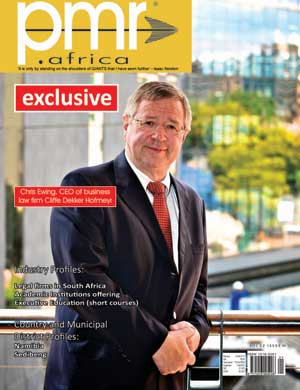 Cliffe Dekker Hofmeyr business law firm has been rated as South Africa's No. 1 law firm for 2011. Cliffe Dekker Hofmeyr was the highest rated firm in the large law firm category in an independent survey conducted nationally by PMR.africa magazine. The respondents were law firm clients who were asked to rate South Africa's legal firms across a range of 28 of the most important attributes clients require in a law firm. Cliffe Dekker Hofmeyr achieved a mean score of 4.37 out of a possible 5.00 across the range of 28 attributes and so was ranked 1st overall and named winner of the Diamond Arrow Award for outstanding service.
"To be recognised as South Africa's highest rated large law firm in the only independent survey of legal firms undertaken in the country with clients of all law firms, is a remarkable achievement," said Cliffe Dekker Hofmeyr CEO, Chris Ewing.
PMR.africa conducts an annual survey on legal firms in South Africa. For the 2011 rankings, interviews were conducted during August, September and October 2010 among a random, national sample of 255 respondents drawn from in-house corporate legal advisers, MDs, CEOs, financial directors, company secretaries and senior managers of listed and large companies in South Africa.
The attributes in respect of which law firms were rated included accessibility of partners, added value, adequacy of range of services offered, attention to detail, caring about clients, commerciality of advice, commitment to transformation and delivery, among others.
"Given that the ratings are based on client perceptions of our firm's capabilities and service delivery, the accolade is significant because it emphasises our commitment to partnering with our clients. This commitment to understanding our clients' needs and acting accordingly is the foundation on which our firm has been built and guides our strategy," Ewing said.

"This award also affirms our brand promise, which is that we believe from the quality of our legal advice and business insight to the efficiency of our legal teams, when it comes to the way we serve and interact with our clients, 'everything matters," he added.
The firm has been rated in the top two large law firm rankings over the past eight years and ranked No. 1 over five years in the annual PMR.africa legal firms' survey.