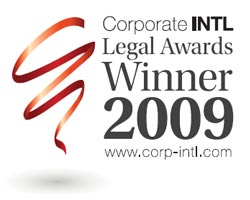 Cliffe Dekker Hofmeyr has been chosen as the winner of the Corporate Intl Magazine Practice Excellence Award for Banking in South Africa and has been named "Best Law Firm in South Africa for Banking legal work 2009".
The award is given as part of the International Legal Awards for Practice Excellence, which aims to distinguish firms around the world for their excellent work in different areas of legal expertise.
The winners are chosen by a panel of judges, which include senior partners of an internationally recognised law firm and an internationally recognised accounting firm, the CEO of a multinational corporation and the editor of Corporate INTL Magazine.
The rating is based on recent deals and matters that the practice has been involved in as well as information gathered about the practice.
Cliffe Dekker Hofmeyr's Finance, Projects and Banking practice group has been widely acknowledged by many international professional bodies and has earned numerous accolades in 2009. The practice group is highly ranked by Chambers Global, the IFLR1000 Guide to the World's Leading Financial Law Firms and the Legal 500, and is ranked as leading practice by the Practical Law Company in its Cross-border Capital Markets: Debt and Equity Handbook in 2009.
With a team of more than 25 lawyers, the Finance, Project and Banking practice is highly experienced in all areas of finance law, project energy law, project finance, general banking and financial services, including acquisition finance and debt capital markets. It also has vast Public Private Partnership experience and a dedicated team specialising in corporate insurance and regulatory aspects surrounding the insurance industry.
On the lending a projects side, the team advises all the major banks in South Africa as well as several major international banks that have representation in South Africa. Its clients range from local and off-shore financiers to major corporations that enter into local and off-shore borrowings. The team also advises borrowers from the public and private sector and many financial services providers.